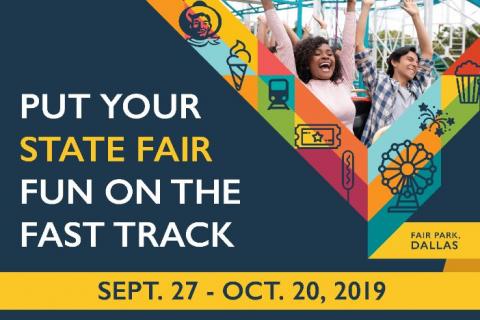 Save big at the 2019 State Fair of Texas with Denton County Transportation Authority (DCTA)! The agency is offering fair-goers one free DCTA and Dallas Area Rapid Transit (DART) local pass when they purchase a State Fair of Texas ticket through DCTA for $16.50 ($27 in total savings).
This Texas-sized deal can be purchased online at DCTAdeal.net for mail delivery, or at the Downtown Denton Transit Center (DDTC) for immediate pickup. DCTA's fair ticket combo deal is not available for purchase on the GoPass® mobile app and cannot be combined with other transit fare and State Fair of Texas ticket reduction options. Tickets are subject to availability.
GET THE 411 ON DCTA'S FAIR TICKET COMBO DEAL
Below are helpful tips fair-goers should know about DCTA's State Fair of Texas ticket combo deal:
DCTA's State Fair of Texas ticket combo will be available for purchase starting Monday, September 16, both online and at the DDTC. Tickets will be sold through Monday, October 14, at

DCTAdeal.net

and Saturday, October 19, at the DDTC. If purchased online, it will take three to five business days for mailing. (PLEASE NOTE: DCTA's State Fair of Texas ticket combo deal will not be available for purchase online after Monday, October 14).

A State Fair of Texas ticket must be purchased for $16.50 to receive one free DCTA and DART local pass during the fair.

The free DCTA local pass is valid for travel on DCTA Monday through Saturday only (no Sunday service). The free DART local pass is valid for travel on DART Monday through Sunday.

The promotion is valid for one DCTA and DART local pass only and is not valid with any other agency fares, passes, promotions or discounts.

No refunds or exchanges will be given for DCTA's State Fair of Texas ticket combo deal.
How to Validate/Use DCTA and DART Fare
To validate your DCTA local day pass prior to boarding, punch a hole in the paper pass to mark the month and day of travel and present validated fare to A-train conductor or fare inspector when asked for your ticket. DART's GoPass℠ Tap card that is bundled with DCTA's State Fair of Texas ticket combo deal is already validated and loaded with funds for local DART travel you can use all day ($6 value). Simply touch the GoPass℠ Tap card to the electronic reader when you board the DART Green Line. Your fare will be deducted automatically, and you'll be ready to ride!
PUT YOUR STATE FAIR FUN ON THE FAST TRACK WITH OUR OUR ONLINE PLANNING TOOLKIT
Take advantage of DCTA's online planning toolkit for detailed fair transit travel information, rider tips, State Fair info and more. Our online toolkit is your one-stop-shop for all your State Fair needs!
During the fair, DCTA will operate regular A-train and bus service. Fair-goers can board the A-train at any of DCTA's five train stations (DDTC, MedPark, Highland Village/Lewisville Lake, Old Town and Hebron), transfer to the DART Green Line at Trinity Mills and have front door service to Fair Park at either the MLK or Fair Park station. As a reminder, the A-train does not meet every DART Green Line train.
Parking is free at all DCTA A-train stations. There is a 24-hour time limit on parking at all agency A-train station parking lots. DCTA does recommend that fair-goers park at the MedPark, Old Town and Hebron stations as they have more parking spaces available.
DCTA now offers increased midday service and has 30-minute frequencies all day. There will be a short break between 1 p.m. and 2 p.m. while trains are prepped and staffed for the remainder of A-train service schedule. DCTA encourages fair-goers to plan their trip via the agency's online planning toolkit and track their ride in real-time using the agency's Transit Tracker system via mobile app, text, online and phone.
For more information about DCTA's State Fair of Texas ticket combo deal and online planning toolkit, visit DCTAdeal.net.