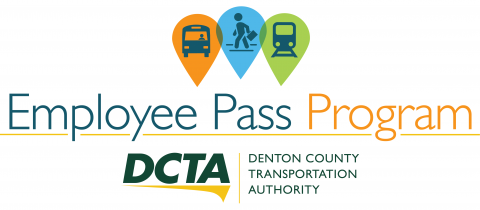 Our Employee Pass Program offers Denton County-based businesses a discount on annual passes for employees. Partner with us today to extend sustainable, low-cost transportation options to your employees. As an employer, you want to offer benefits that will attract and retain high-quality employees. As a business in our community, you want to have a reputation for being responsible and innovative. DCTA's Employee Pass Program gives you the opportunity to offer a low-cost transportation benefit to your employees and reduce your company's carbon footprint.
We at DCTA can provide a free consultation to determine the best plan for you and your employees. Schedule an appointment with an Employee Pass Program representative at epp@dcta.net.
Discount passes are ONLY applicable to DCTA local fares including Monthly and Annual Passes. Discount passes are produced on a first-come, first-served basis and are subject to ticket stock availability. Some orders may be delayed, depending on the total number of passes requested, to allow for additional ticket stock to be ordered and the complete order to be processed and fulfilled. DCTA staff will work with all purchasers to turn around orders as quickly as possible.
Benefits to Employers
Offer a cost-effective benefit to your employees
Acquire a valuable tool for employee recruitment and retention
Choose how much to subsidize based on your business model and employee needs
Benefits to Employees
Save on gas and mileage
Take advantage of time that used to be spent focusing on the road
Reduce your individual carbon footprint
Benefits to the Community
Breathe cleaner air from lower carbon emissions
Proudly support local business
Enjoy reduced traffic congestion on the roadways
Price Matrix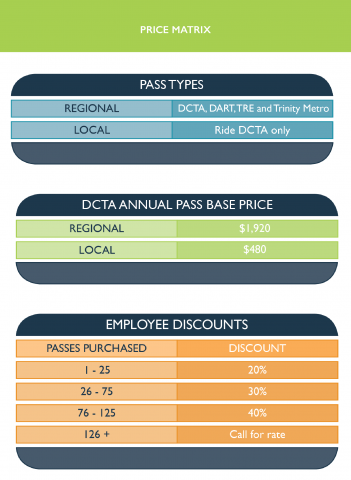 Discount passes are ONLY applicable to DCTA local fares including Monthly Pass and Annual Pass.