This is where we keep you up to date and provide additional information of any upcoming changes to services, timetables, maps, fares and/or any other major agency updates or temporary service updates.
Information updated August 11, 2022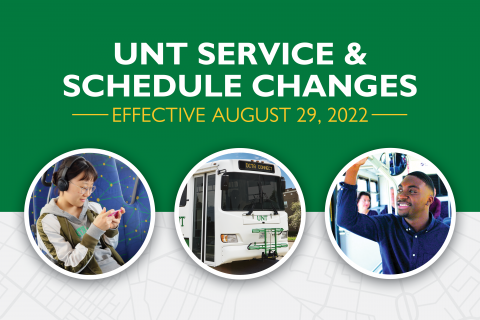 August 29, 2022 Service & Schedule Changes
It's time to take flight and start school. Effective Monday, August 29, DCTA will implement service changes to the University of North Texas (UNT) Shuttle Routes to align with their fall class schedule.
The routes and schedules on this page reflect the updates that will take place on August 29.
FALL 2022 ROUTE MAPS AND SCHEDULES
UNT AC 101
UNT BST 161
UNT CE 171
UNT CP 151
UNT DP 141
UNT DP 143 Saturday
UNT DS 181
UNT EOC 191
UNT EP 131
UNT MG 111
UNT MGNR 116
UNT MGP 113
UNT NT 121
UNT Parking Express (A & B)