New Connect Bus and UNT Campus Shuttle bus schedules in effect for Summer 2023.
DCTA has implemented changes for summer bus schedules, effective May 15, 2023 until August 14, 2023. The changes include expanded service hours for all three Connect Bus routes in Denton, and reduced schedules for UNT Campus Shuttle bus service during the summer semester.
Connect Bus
Route 3
Weekday service is now extended by half an hour in the evenings.
On Saturdays, service hours have been extended in the morning and in the evening, with service now running from 7:50AM to 6:35PM.
Route 6
Weekday service has been extended by 40 minutes in the morning and in the evening.
On Saturdays, service now starts earlier, at 7:35AM.
Route 7
Weekday service now begins 40 minutes earlier at 7:21AM.
Saturday service is also extended, with the first bus now running at 8:25AM and the service day extended to 5:18PM.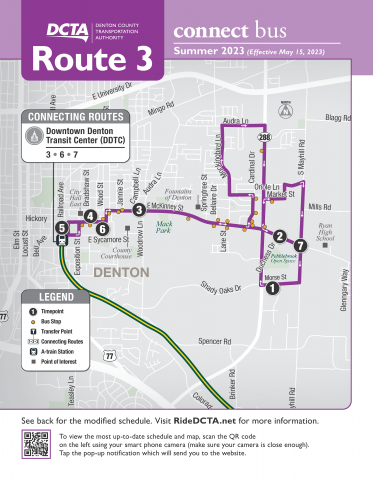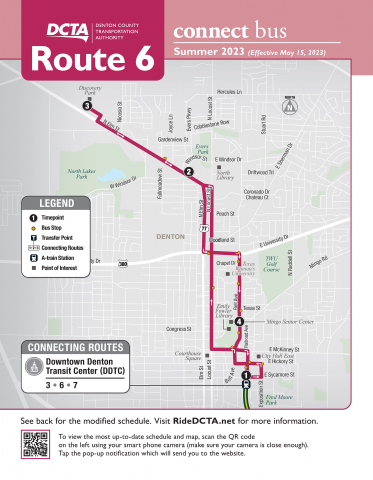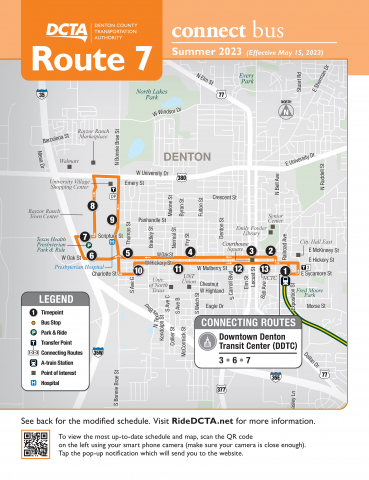 UNT Campus Shuttle
With most UNT students leaving campus for the summer months, DCTA will reduce UNT Campus Shuttle service from May 15 through August 11, with some routes being temporarily suspended until the fall semester resumes on August 14, 2023.
These UNT Campus Shuttle routes will operate on reduced schedules during the summer months, weekdays only with no weekend service.
Mean Green: MG 114 (every 25 minutes, 6:55AM to 5:32PM)
North Texas: NT 124 (every 28 minutes, 7:00AM to 5:18PM)
Discovery Park: DP 144 (every 20 minutes, 7:15AM to 10:35PM)
Centre Place: CP 154 (every 30 minutes, 6:50AM to 5:45PM)
Bernard Street: BS 164 (every 20 minutes, 7:14AM to 5:54PM)
Colorado Express: CE 174 (every 40 minutes, 7:13AM to 5:53PM))
Daugherty Street: DS 184 (every 25 minutes, 7:16AM to 6:28PM)
Evening Off Campus: EOC 194 (4:16PM to 10:02PM)
The following UNT Campus Shuttle routes will not operate in the summer months, but will resume on August 14, 2023 with the start of the fall semester.
Academic Circulator: AC 101
Mean Green Plus: MGP 113
Mean Green Night Rider: MGNR 116
Eagle Point: EP 131
Discovery Park Saturday: DP 143
Parking Express A & B
Please note that Connect Bus Route 7 serves the UNT campus and the Downtown Denton Transit Center, providing connections to other Connect Bus routes and A-train service.
UNT Campus Shuttle Routes and Schedules
Important Reminder: The UNT Shuttles are open to the public.