Rider Alert

Back on Schedule Bus Service

Mean Green Night Rider is back on schedule. 

We appreciate your patience during this time. Thank you for riding DCTA!

Missed Run / Delay Bus Service

Due to a operational issue, Mean Green Night Rider departing The Union at 8:04 pm was unable to run. The next bus is scheduled to depart The Union at 8:19 pm.

We appreciate your patience during this time. Thank you for riding DCTA!



Get the freedom and flexibility to move according to your schedule with our new Denton Enterprise Airport on-demand pilot service. This FREE and convenient service allows you to plan your trip anywhere within the designated Denton Enterprise Airport Zone via the Microtransit mobile app which can be downloaded from the Apple and Google Play store, online or by phone calling 940.243.0077. 

Riders can request a trip Monday through Friday from 6 a.m. to 9:30 p.m. and on Saturdays from 8:30 a.m. to 7 p.m. Service will not run on major holidays. Service will be offered at no charge for passengers during the pilot period that ends on January 14, 2019.


Learn More

#WhyIRideDCTA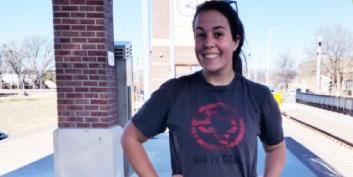 "If you've ever gotten frustrated from being stuck in traffic, I highly recommend riding the A-Train!"

Amelia L. Hedrick
Carrollton, TX
ABOUT DCTA
The Denton County Transportation Authority (DCTA) provides modern public transportation and mobility options that connect riders with the needs of their day. With fixed-route and on-demand bus service, the A-train commuter rail line and the Rail Trail, DCTA provides a variety of convenient, efficient and sustainable transit solutions for riders connecting to destinations within Denton and Collin counties.