DCTA has five A-train stations:
Downtown Denton Transit Center (DDTC)
MedPark Station
Highland Village/Lewisville Lake Station
Old Town Station
Hebron Station
DART Trinity Mills Station (Green Line Connection)
Passengers can ride the A-train free in the designated "free fare" zones between the Downtown Denton Transit Center and the MedPark Station, as well as between the Hebron Station and the Trinity Mills Station.
The Downtown Denton Transit Center (DDTC) also serves as the hub of DCTA operations, with A-train and Connect Bus service, as well as Access paratransit service and GoZone pick-ups and drop-offs. Customers may also visit the DDTC to purchase passes, obtain information, or apply for ridership badges (ADA, Reduced Fare, etc.) and employment positions.
Downtown Denton Transit Center Operating Hours:
Monday - Friday: 7:00 am to 7:00 pm
Saturday - Sunday / Holidays: Closed
Customer Service phone: 940.243.0077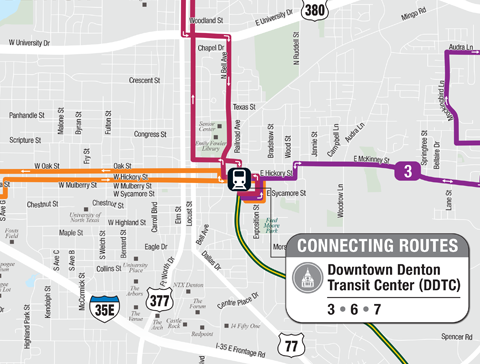 Downtown Denton Transit Center (DDTC)
604 E. Hickory Street, Denton, Texas 76205

Served by the A-train, Connect Bus Routes 3, 6, and 7, as well as GoZone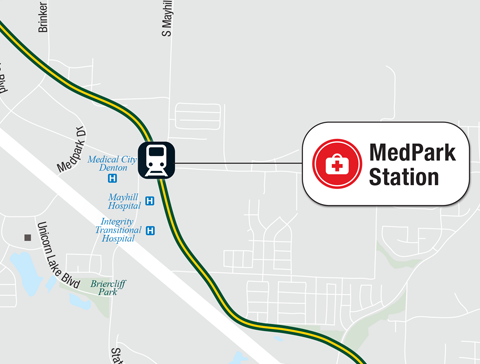 MedPark Station
3220 MedPark Drive, Denton, Texas 76208

Served by the A-train and GoZone
Highland Village/Lewisville Lake Station
2998 N. Stemmons Freeway, Lewisville, Texas 75077

Served by the A-train and GoZone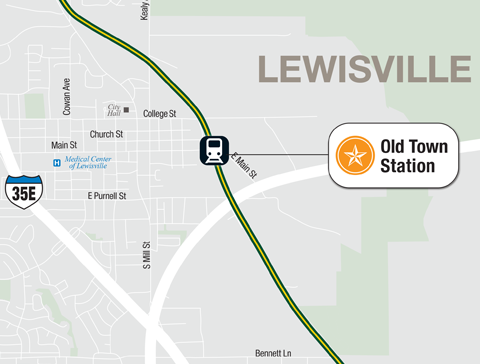 Old Town Station
617 E. Main Street, Lewisville, Texas 75057

Served by the A-train and GoZone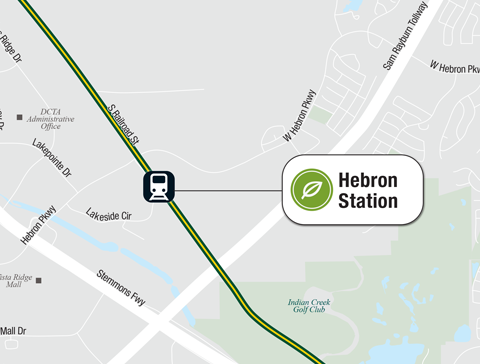 Hebron Station
952 Lakeside Circle, Lewisville, Texas 75057

Served by the A-train and GoZone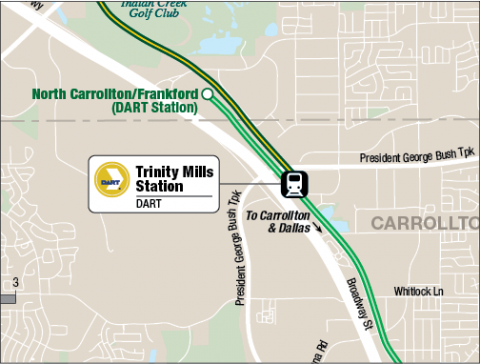 DART Trinity Mills Station
2525 Blanton Drive, Carrollton, Texas 75006

Served by the A-train, the DART Green Line (light rail) and DART Bus Routes 534 and 536