The A-train is DCTA's 21-mile commuter rail line connecting Denton and Dallas Counties. The A-train connects with the Dallas Area Rapid Transit (DART) Green Line at the Trinity Mills Station in Carrollton, Texas. The A-train operates Monday through Saturday, excluding major holidays. DCTA has five A-train stations – two in Denton and three in Lewisville.
The A-train stops at each of DCTA's five stations - Downtown Denton Transit Center, MedPark Station, Highland Village/Lewisville Lake Station, Old Town Station and Hebron Station - before reaching the Trinity Mills Station.
Passengers can ride the A-train free in the designated "free fare" zones between the Downtown Denton Transit Center and the MedPark Station, as well as between the Hebron Station and the Trinity Mills Station.
PTC Testing
DCTA has identified temporary A-train service modifications in order to maintain the agency's progress on PTC testing/implementation. Effective Friday, January 18, the agency will begin running the two Friday evening schedules and first Saturday morning schedule as RSD for PTC testing, but without any passengers. There will also be trains in RSD testing running on Sundays until March 17. The head sign on the A-train vehicles will state "Out of Service."
Although passengers will be able to see DCTA trains running, those schedules are still out of service and not in revenue operation for people to ride. The suspended RSD trains will continue up until DCTA's next service change, in which all agency trains will be in RSD. The agency encourages riders who typically utilize these specific A-train schedules to make plans to board an alternate train.
The trains that are affected include Train No. 5964, 5963 and 5370.

For a printable schedule, please click below:
A-train English / A-train Spanish
A-train Northbound


PLEASE NOTE: THE SHADED AREA ON THE WEEKDAY SCHEDULE (TRAIN 5964) IS A FRIDAY-ONLY TRAIN TIME

* GREEN LINE TRAIN TERMINATES BEFORE BUCKNER STATION. VISIT DART.ORG FOR FULL DART SCHEDULE *
A-train Southbound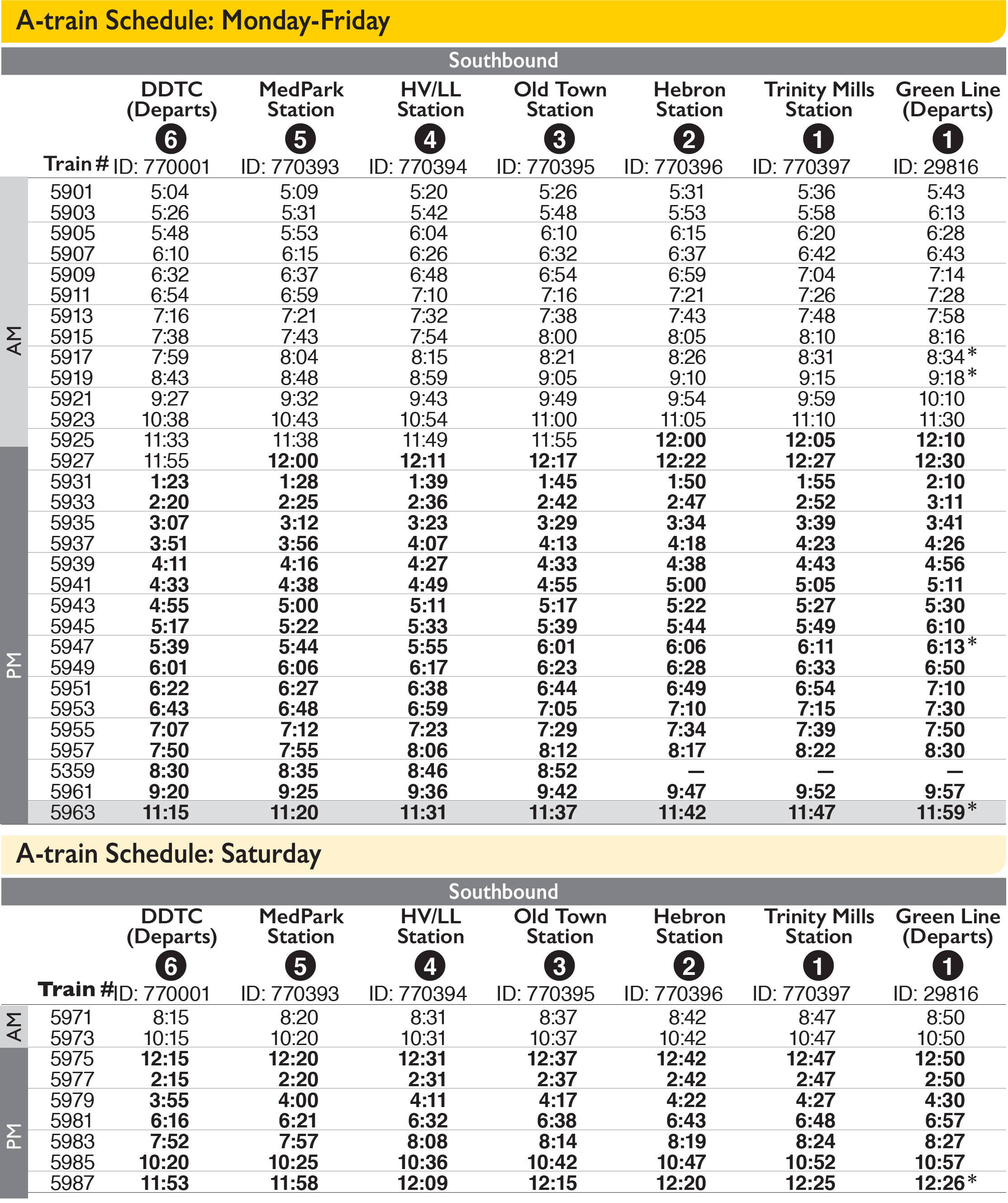 PLEASE NOTE: THE SHADED AREA ON THE WEEKDAY SCHEDULE (TRAIN 5963) IS A FRIDAY-ONLY TRAIN TIME

* GREEN LINE TRAIN TERMINATES BEFORE BUCKNER STATION. VISIT DART.ORG FOR FULL DART SCHEDULE *