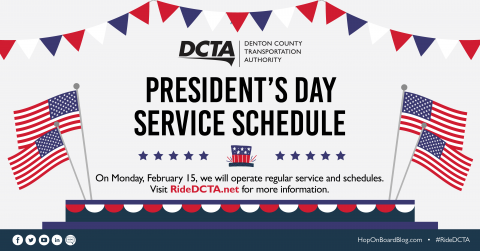 Update: We are aware of the potential for severe weather in the forecast and are monitoring conditions. Please visit RideDCTA.net/weather for updates.
On Monday, February 15, the Denton County Transportation Authority (DCTA) will operate regular service and schedules, and its Downtown Denton Transit Center (DDTC) and customer service office will be open during regular business hours (7 a.m. to 6 p.m.) during the President's Day holiday. PLEASE NOTE: The DDTC is open only for ticket purchases due to COVID-19. Visit RideDCTA.net to get the latest DDTC facility updates.
DCTA's administrative office in Lewisville will be closed in observation of the President's Day holiday and will open for regular business hours on Tuesday, February 16.
For route and schedule information, call DCTA Customer Service at 940.243.0077 or visit RideDCTA.net.