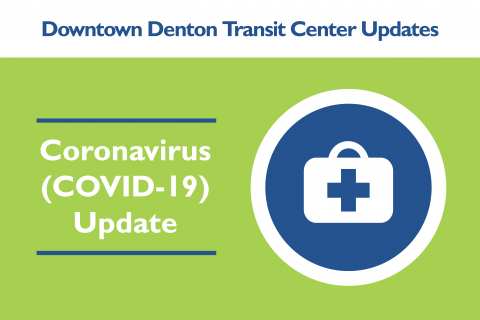 UPDATED ON September 29, 2020
In response to the novel coronavirus (COVID-19) health emergency, the Denton County Transportation Authority (DCTA) will open the Downtown Denton Transit Center (DDTC) for ticket purchases only effective Monday, September 21, 2020. The lobby and restrooms will remain closed to the public and the ticket window and customer service hours will be as follows:
Monday through Friday from 7 a.m. to 6 p.m.

Closed on Saturdays and Sundays
CUSTOMER SERVICE AVAILABILITY
DCTA's Customer Service team will remain available by phone to assist passengers with questions at 940.243.0077. The agency encourages riders to sign up for Rider Alerts and follow DCTA on Facebook and Twitter to receive real-time information regarding facility closures and service modifications.
FARE PURCHASE OPTIONS
Individuals needing to purchase passes can do so with the following options:
DCTA is still accepting cash fare on buses. For more information on purchasing fare, visit the agency's fare page.
LOST & FOUND POLICY UPDATE
Customers will still be able to pick up lost and/or misplaced items with the closure of the DDTC. If an item is located in lost and found based on the description provided over the phone, DCTA's Customer Service team will coordinate with that individual for pickup. For more information, visit DCTA's Lost & Found Policy page.
Thanks for your patience as DCTA works to protect its passengers and employees. For more information about DCTA updates during the COVID-19 health emergency, click here.