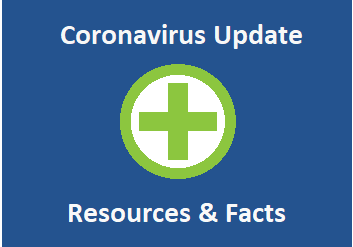 Like many of you, DCTA is closely monitoring what is happening with the novel coronavirus (COVID-19). At DCTA, our top priorities are keeping our passengers and employees healthy and ensure a safe commute for our riders. Due to the current COVID-19 risks, we are increasing precautions to protect our passengers and staff and will provide updates of any new information that could impact riders' commutes. DCTA will continue to operate as the agency is considered an essential business by the Denton County "Stay at Home" declaration.
What You Need to Know about the Coronavirus
How the illness spreads
When an infected person talks, coughs or sneezes respiratory droplets can land in the mouths or noses of people who are nearby or can possibly be inhaled into the lungs. People who are in close contact with an infected person (within about six feet) can become affected.
Main symptoms
The main symptoms include fever, cough and difficulty breathing. Reported cases range from mild illness (like a common cold) to severe pneumonia that requires medical care or hospitalization.
What DCTA is Doing to Keep Passengers and Employees Safe
We are staying on top of alerts from local, state and national health organizations to closely monitor the situation and are following their recommendations on prevention measures. Along with our regular daily cleanings, we are using a medical-grade disinfecting spray on all DCTA buses, trains and Downtown Denton Transit Center (DDTC). In addition, on a weekly basis, all buses and trains are sprayed with a broad spectrum disinfectant that is effective against a range of microorganisms. Additional attention is being placed on high touch point areas such as door handles, countertops and steering wheels; and we continue to evaluate our cleaning processes as needed.
All non-essential personnel are operating under a work-from-home policy. Since dispatchers, drivers and mechanics are essential staff, we have been diligently implementing processes to enhance the safety of our personnel. As soon as no-touch thermometers are delivered, operations will monitor staff temperatures upon reporting for duty.
At this time, there have been no confirmed symptoms and/or cases for either DCTA or North Texas Mobility Corporation (NTMC). This is being monitored daily to ensure the safety of our employees and passengers.
DCTA riders and employees can also find information updates on our website and social media sites, Rider Alerts (sign up here to receive them) and throughout our system and facilities.
DCTA Service and Facility Updates to Know
How to Protect Yourself and Prevent Spread of Illness
Though we are taking extra cleaning precautions, we recommend our passengers stay vigilant when protecting themselves from germs. Help us prevent the spread of coronavirus and other flu-like illnesses on our buses and trains by following the recommended tips from the Center for Disease Control and Prevention (CDC):
Avoid close contact with people who are sick

Wash your hands with soap and water for at least 20 seconds (if soap and water are not readily available, use an alcohol-based hand sanitizer with at least 60% alcohol) especially after going to the bathroom; before eating; and after blowing your nose, coughing, or sneezing

Avoid touching your nose, eyes and mouth

Cover your mouth when you cough or sneeze with a tissue and then throw the tissue in the trash

If you are feeling ill, stay home and avoid close contact with others

The CDC does not currently recommend that masks be worn by unaffected people as they have not yet been proven to be effective
We encourage passengers who feel sick or are experiencing symptoms to stay home and avoid public places. If you have questions or concerns you can send feedback via our GORequest platform which is available on our website or you can download the free mobile app on the Apple and Google Play store.
Stay Informed with Facts and Resources
Be "in the know" on the latest coronavirus information by visiting the following local, national and international public health agencies:
Upcoming Open Meetings
During the coronavirus (COVID-19) health emergency, all public meetings for DCTA will be held online until further notice.
March Board Meeting:
Thursday, March 26, 2020, 10:00 a.m.
Join the meeting here.
We appreciate everyone's support and partnership with us to help prevent the spread of the COVID-19 illness.