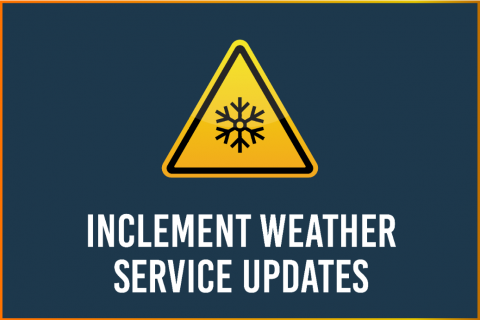 Last Updated on Monday, February 22
All Denton County Transportation Authority (DCTA) services will resume regular operations on Monday, February 22, including the A-train, Denton and Lewisville Connect bus service, the Lewisville Lakeway and Downtown Denton Transit Center (DDTC) Evening On-Demand services, North Texas Xpress Route 64, the University of North Texas (UNT) Campus Shuttles and Access services.
In addition, the Downtown Denton Transit Center (DDTC) will be open for in-person ticket purchases only and the DCTA's administrative office and phone lines will be in operation.
PLEASE NOTE: DART will also resume regular schedules on Monday, February 22. DCTA encourages passengers who ride DART to sign up for their rider alerts to stay informed on delays and visit DART's winter weather webpage for more updated service information. In addition, the Trinity Railway Express (TRE) will operate on a regular schedule on Monday, February 22. Stay informed about any service changes by registering for TRE Alerts at www.trinityrailwayexpress.org.

DCTA will continue to monitor the forecast and adjust service operations accordingly to keep riders and employees safe. Passengers are encouraged to sign up for Rider Alerts to stay up to date on DCTA services. In addition, passengers should also note that DCTA's Transit Tracker system may not provide accurate arrival information for agency vehicles if services are delayed or suspended. For more information on how DCTA operates during winter weather, visit our blog.