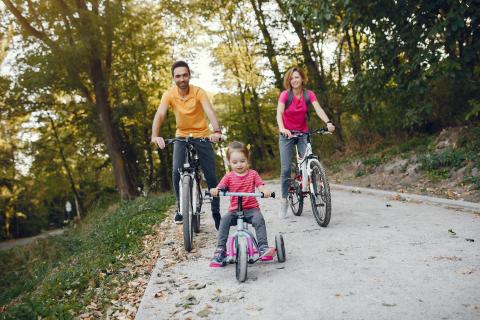 Calling all trail lovers! Mark your calendars for Saturday, April 24, for Celebrate Trails Day, the Rails-to-Trails Conservancy's annual spring celebration. The 2021 observance will look a little different than previous years, but we at DCTA have come up with fun and safe activities to enjoy and celebrate our A-train Rail Trail. Learn more about the Rails-to-Trails Conservancy at railstotrails.org.
Ride the A-train Free All Day

All passengers can ride our A-train free all day on Saturday, April 24, by saying the event code word "Celebrate Trails Day" to our rail operators. Passengers can make their way down the trail, navigate to one of DCTA's five train stations and hop onboard to ride back to their starting point.

Stop by DCTA's Booth for Rail Trail Snacks & Guides

Make sure to stop by our Downtown Denton Transit Center (DDTC) from 9 a.m. to 12 p.m. to talk with our staff who will be distributing free water, rail trail-friendly snacks and a print copy of our new rail trail pocket guide!

Win Prizes from DCTA's Scavenger Hunt

It's selfie time! We're hosting a scavenger hunt as event attendees make their way down our rail trail on Celebrate Trails Day. You can participate in our scavenger hunt by following the photo guidelines, taking selfies with the provided prompts and uploading them to the provided QR code.

 

DCTA will keep track of all submitted photos. Any inappropriate images will result in immediate disqualification. PLEASE NOTE: Each photo opportunity may only be completed and submitted once to count towards the scavenger hunt.

 

We're offering three prizes to those who rack up the most points. All winners will be announced on Tuesday, April 27.

First Prize

: $40 Amazon gift card, wireless earbuds, water bottle, DCTA reusable bag, fanny pack and trail mix, A-train Rail Trail pocket guide and a trail guidebook

Second Prize

: $25 Amazon gift card, coffee tumbler and monthly pass




Third Prize

: $25 Amazon gift card, monthly pass and DCTA small promo item

 

Download the comprehensive scavenger hunt flyer here. Don't forget to view our checklist below!

 

 

A-train Rail Trail Safety Tips and More

Keeping safety top of mind when you're on our rail trail will ensure everyone has a great time. Below are some general safety tips to remember while on our rail trail:

Look before you cross the tracks




Be aware of your surroundings




Stop for flashing red lights




Wheels yield to heels




Maintain social distancing with other groups on the trail




Download our

rail trail pocket

guide before your trip


Learn more tips at HoponBoardBlog.com.

COVID-19 Safety Reminders

We're taking the necessary precautions to make sure our vehicles are safe and clean during COVID-19. Remember, passengers are required to wear a face mask when onboard our vehicles, on our A-train platforms, at bus stops and at our facilities. We also encourage passengers to maintain the recommended social distancing of six feet.

 

When on our rail trail, we encourage passengers to follow the same guidelines to keep themselves and other trail users safe.