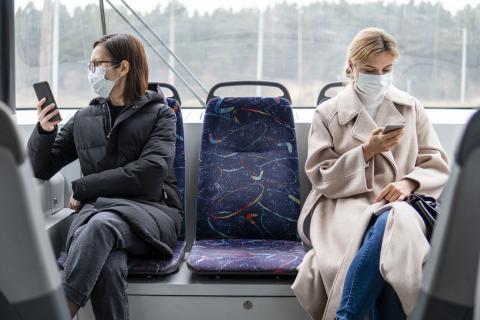 On Tuesday, March 2, Texas Gov. Greg Abbott issued an executive order to lift the mask requirement across the state, effective Wednesday, March 10. For the safety and protection of our passengers and employees, DCTA will continue to align with the federal mask mandate that requires masks on all public transportation according to the Center for Disease Control and Prevention (CDC) Federal Register Notice and the Transportation Security Agency (TSA) Security Directive.
All DCTA and North Texas Mobility Corporation (NTMC) personnel and customers are required to wear a face mask covering the nose and the mouth while on any of DCTA's service vehicles and when they are at any agency facility. Passengers will not be allowed on DCTA vehicles without a proper face covering. In addition, riders must wear a face covering for the entire duration of their trip and when waiting for their vehicle at bus stops and train stations.
"At DCTA, we're committed to protecting the health of our passengers and employees and will continue to maintain the federal mask requirement in an effort to keep our communities safe," Raymond Suarez, DCTA CEO said.
As supply is available, DCTA will offer a complimentary mask to those who do not have one. Passengers who refuse to wear a proper mask covering will be refused service on DCTA services until they comply with the federal mandate. Also, those who violate the federal mask mandate could face civil penalties.
To learn more about how DCTA is protecting its passengers during COVID-19, visit RideDCTA.net/health.