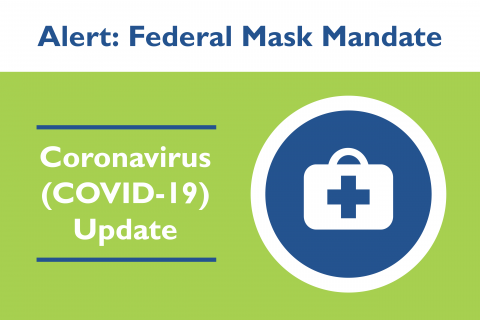 Starting Tuesday, February 2, masks will be required on all public transportation according to the Center for Disease Control and Prevention (CDC) Federal Register Notice and the Transportation Security Agency (TSA) Security Directive. The Order affects all passengers and transit operators.
Passengers will not be allowed on DCTA vehicles without a proper face covering. In addition, riders must wear a face covering for the entire duration of their trip and when waiting for their vehicle at bus stops and train stations. As supply is available, DCTA will offer a complimentary mask to those who do not have one. Passengers who refuse to wear a proper mask covering will be refused service on DCTA services until they comply with the federal mandate. Also, those who violate the new federal mask mandate could face civil penalties.
"DCTA is committed to complying with federal, state and local COVID-19 mandates to ensure the safety of our passengers and employees," Raymond Suarez, DCTA CEO said. "We need all riders to follow this new federal mask mandate to stay safe and help us flatten the curve during this pandemic."
According to the CDC, the following are attributes of masks needed to fulfill the requirements of the Order.
A properly worn mask completely covers the nose and mouth.

Cloth masks should be made with two or more layers of a breathable fabric that is tightly woven (i.e., fabrics that do not let light pass through when held up to a light source).

Mask should be secured to the head with ties, ear loops, or elastic bands that go behind the head. If gaiters are worn, they should have two layers of fabric or be folded to make two layers.

Mask should fit snugly but comfortably against the side of the face.
Mask should be a solid piece of material without slits, exhalation valves, or punctures.
According to the Order, face masks can be taken off while eating, drinking or taking medication. In addition, a mask is not required when communicating with a person who is hearing impaired and needs to see a person's mouth to communicate.
The following individuals are exempt from the Order:
A child under the age of two.

A person with a disability who cannot wear a mask or cannot safely wear a mask because of a disability as defined by the Americans with Disabilities Act (ADA).

A person for whom wearing a mask would create a risk to the workplace health, safety, or job duty as determined by the relevant workplace safety guideline or Federal regulations.
To learn more about how DCTA is protecting its passengers during COVID-19, visit RideDCTA.net/health.