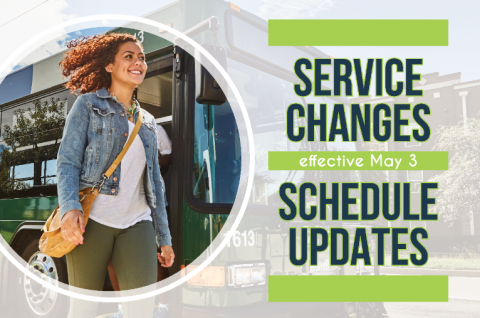 Effective Monday, May 3, we will implement minor schedule changes to better optimize route times, improve on-time performance and provide increased connectivity with our A-train. The University of North Texas (UNT) will also transition to its summer service schedule. We implement minor changes during the year to ensure we are operating efficiently and supporting the ridership needs of the many communities we serve.
Denton and Lewisville Connect Bus Service Updates
To optimize run times and on-time performance, we plan to update Denton Connect Bus Routes and Lewisville Connect Bus Routes. Below is an overview of key schedule changes:
Routes 1,2,3,4 and 7

Routes 21 and 22
University of North Texas Campus Shuttle Summer Schedule
The UNT Campus Shuttle schedules will be updated to transition to its summer schedule. Below is an overview of key route changes:
BST 161, CE 171, CP 151, DP 141, MG 111, NT 121

Small changes in the times

The following routes will not operate during the summer

Parking Express Fouts Field (PEFF)

Parking Express Victory Hall (PEVH)

Eagle Point (EP)

Mean Green Plus (MGP)

Mean Green Night Rider (MGNR)
For more information on our UNT Campus Shuttle Route Numbering Guide, visit our blog.
At DCTA, we are taking the necessary precautions to make sure agency vehicles are safe and clean for passengers so that when they are ready, they can hop back on board. We encourage riders to sign up to receive our Rider Alerts and follow us on Facebook and Twitter to receive real-time information regarding service and facility updates.