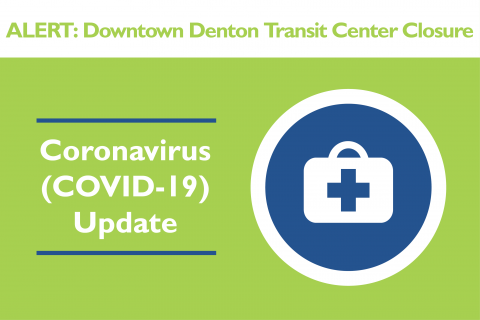 In response to the novel coronavirus also known as COVID-19 health emergency, the Denton County Transportation Authority (DCTA) will close the Downtown Denton Transit Center (DDTC) effective Wednesday, March 18, 2020, at 7 p.m. The DDTC lobby and restrooms will also remain closed until further notice.
Customer service will remain open and is available to assist passengers with questions at 940.243.0077. DCTA encourages riders to sign up for Rider Alerts and follow the agency on Facebook and Twitter to receive real-time information regarding facility closures and service modifications.
Individuals purchasing passes from the DDTC ticket window will be permitted to enter the lobby for purchases only. Ticket window and customer service hours will remain:
Monday through Friday from 5 a.m. to 7 p.m.

Saturdays from 8 a.m. to 4 p.m.

Closed on Sundays
For more information about DCTA updates during the COVID-19 health emergency, click here.