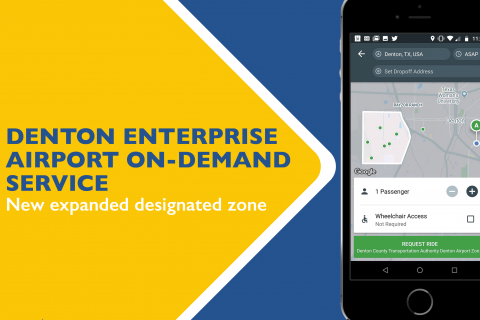 People will soon have more opportunities to utilize the Denton County Transportation Authority's (DCTA) Denton Enterprise Airport on-demand microtransit service. On Monday, May 13, the agency will expand its Denton Enterprise Airport on-demand service area by adding a new zone to cover portions of the residential area south of Interstate 35E and west of Fort Worth Drive.
DCTA utilizes software from TransLoc – a technology provider of transit solutions – which allows the agency to provide on-demand service for riders to have real-time mobility options and be able to optimize service. Microtransit service offers real-time flexible routing and scheduling of DCTA vehicles. Like Uber and Lyft, DCTA-branded vehicles carry a handful of riders at a time. The driver has an iPad showing the shortest route to get passengers to their individual destinations.
"Expanding our Denton Enterprise Airport on-demand service area is key to encouraging ridership and providing people with convenient, affordable mobility solutions in real time to get them where they need to go," said Raymond Suarez, DCTA CEO.
No Changes to Service Hours and Fare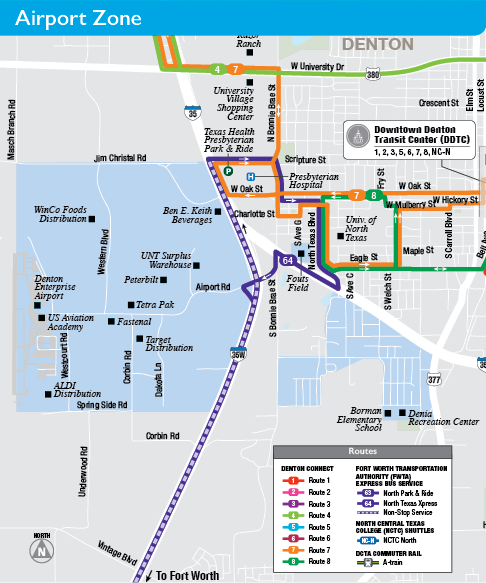 The new zone will have the same service parameters as
the current designated zone. The Denton Enterprise Airport on-demand service is available Monday through Friday from 6 a.m. to 9:30 p.m., and on Saturdays from 8:30 a.m. to
7 p.m. Passengers who ride the microtransit service can also connect to other DCTA services such as Denton Connect Routes 7 and 8, North Texas Xpress
(Route 64), and University of North Texas (UNT) Campus Shuttle routes (Mean Green, Eagle Point, and North Texan) at the UNT Fouts Field transfer point.
A DCTA Local Day or AM/PM Pass gives riders access to the Denton Enterprise Airport on-demand service and other DCTA services, including: A-train, Connect Bus system, Highland Village Connect Shuttle, Campus Shuttles and Lewisville Lakeway On-Demand services. North Central Texas College (NCTC) and UNT students, faculty and staff
can ride the Denton Enterprise Airport and 
Lewisville Lakeway on-demand services free with a valid ID.
How to Book a Trip
Riders can book a trip in the Denton Enterprise Airport designated zone in real time via the Microtransit mobile app which can be downloaded from the Apple and Google Play store, online or by phone calling 940.243.0077.
Passengers can follow the steps below to book a trip:
1. Open the Microtransit app on your mobile device (or on your desktop at ondemand.transloc.com) and click on the Denton Airport Zone.
2. Select your pick-up time, pickup location and drop off location. You can use the designated stops or you can enter an address for your specific location. You can schedule your trip in advance to select a later time and/or date by tapping "ASAP" in the upper right corner.
3. Add any additional information and tap "Request Ride" when ready.
4. Receive real-time prediction of pick-up time via text and the mobile app
Riders can watch their DCTA-branded vehicle live via the mobile app and online, receive notifications as it approaches and change or cancel their request. Wait times can be reduced for riders by grouping ride requests on similar routes. Booking reoccurring trips is currently not available. If riders need assistance with their account, they can visit transloc.com/services-support or go to "settings" in the mobile app to provide feedback or report an issue.