DCTA has launched a new on-demand pilot mictrotransit service that provides travel options for riders needing to access the Denton Enterprise Airport and other businesses in the designated zone. There is also a stop at the University of North Texas (UNT) Fout's Field for people to travel to the Denton Enterprise Airport Zone. Passengers can book a trip in real time via the Microtransit mobile app which can be downloaded from the Apple and Google Play store, online or by phone calling 940.243.0077.
Microtransit service offers real-time flexible routing and scheduling of minibus vehicles. Similar to Uber and Lyft, DCTA-branded vehicles will carry a handful of riders at a time. The driver will have an iPad showing the shortest route to get passengers to their individual destinations.
The pilot program compliments the agency's fixed-route service and provides service to the industrial area near the Denton Enterprise Airport and will go until January 14, 2019. DCTA is utilizing software from TransLoc – a technology provider of transit solutions – which allows the agency to provide on-demand service for riders to have real-time mobility options and be able to optimize service during the pilot program.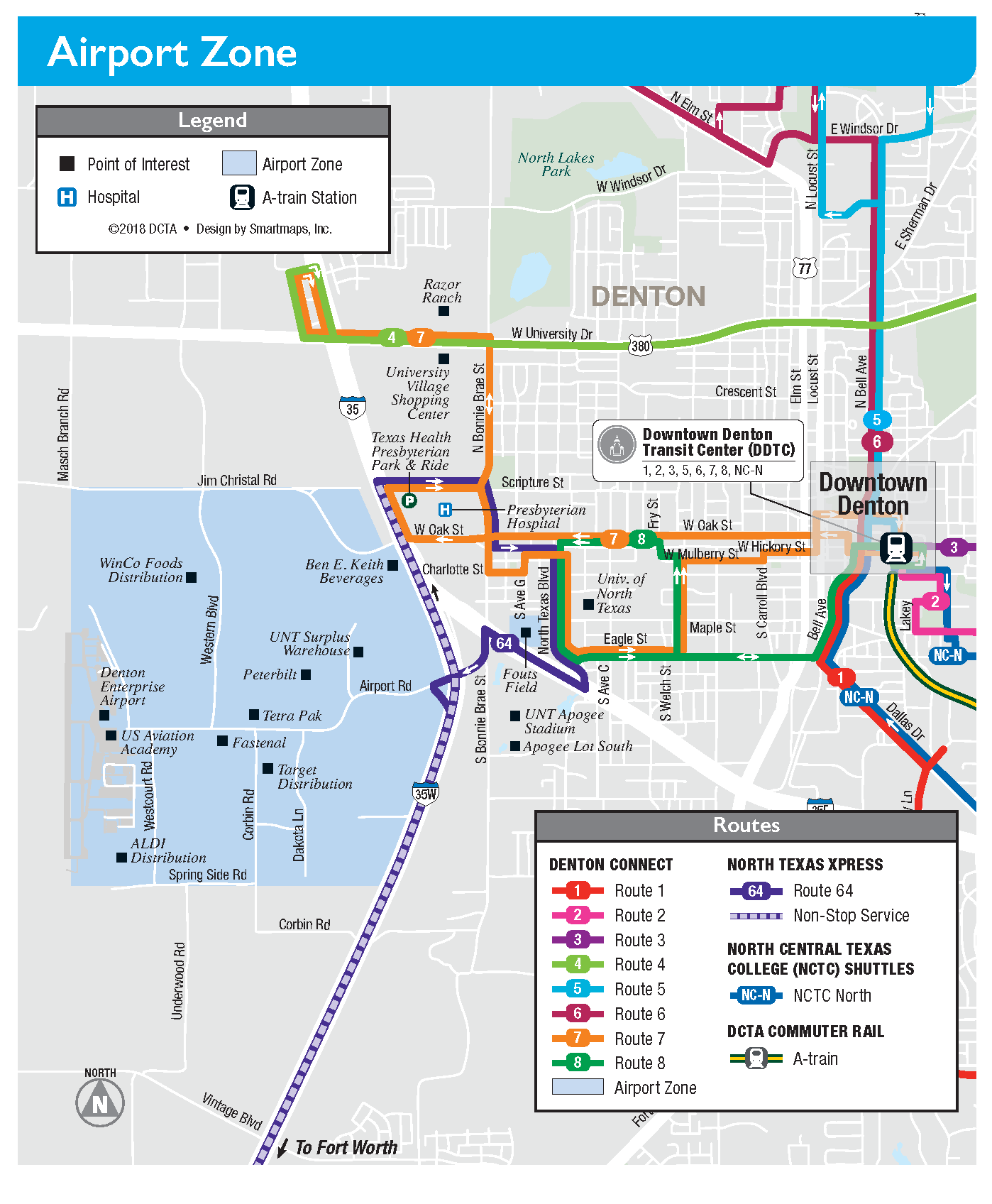 Pilot Program Service Hours
Riders can request a trip Monday through Friday from 6 a.m. to 9:30 p.m. and on Saturdays from 8:30 a.m. to 7 p.m. Service will not run on major holidays.
Service Area  
Riders can book a trip to the Denton Enterprise Airport and surrounding businesses in the designated zone which includes the following stops:
UNT Recreational Sports Complex and Peterbuilt Employee Entrance (Eastside)

WinCo Food Distribution Center

ALDI Distribution Center

Fastenal Distribution Center

Target Distribution Center

Denton Enterprise Airport

UNT Fouts Field (only stop outside of the designated zone that will be served)
*These stops are here for customer ease and are not the only stops that will be served within the designated zone. Riders can travel anywhere within the Denton Enterprise Airport Zone using this new pilot service.*
Passengers who ride the new on-demand pilot service can also connect to other DCTA services such as Denton Connect Routes 7 and 8, North Texas Xpress Route 64, and the Mean Green, Eagle Point, and North Texan UNT Campus Shuttle Routes at the UNT Fouts Field transfer point.
Cost to Ride
This service is being offered at no charge during the pilot period that ends on January 14, 2019. 
How to Book a Trip
Booking a trip is simple. Follow these easy steps below:
Open the Microtransit app on your mobile device (you can also access it by visiting ondemand.transloc.com)

Pick DCTA and the day of service from the menu

Select your pick-up time

Select your pickup location and drop off location

Select your trip which notifies a DCTA bus driver

Receive real-time prediction of pick-up time via text and the app

Vehicle arrives to rider pick-up location
Riders can watch their DCTA-branded vehicle live in the mobile app and online, receive notifications as it approaches and change or cancel their request. Wait times can be reduced for riders by grouping ride requests on similar routes. Passengers should note that booking reoccurring trips is not available at this time. 
Account Help and Mobile App Resources
For general questions and facts about the Microtransit mobile app, riders can visit translocrider.com/faqs. If riders need assistance with their account, they can visit transloc.com/services-support or go to "settings" in the mobile app to provide feedback or report an issue.
DCTA's Denton Enterprise Airport Zone pilot project is the first step in the agency's plan to explore newer, more cost-effective ways to provide service to its customers. The agency plans to roll out a similar on-demand project in Lewisville in January 2019. We appreciate rider feedback and encourage you to send it via our GORequest system to help us enhance our service!