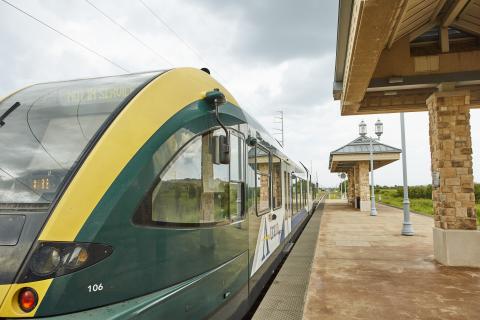 Last month, the Denton County Transportation Authority received federal certification of its positive train control (PTC) system on its 21-mile A-train commuter rail line. The Federal Railroad Administration (FRA) certified that DCTA's Enhanced Automatic Train Control (E-ATC) system complies with all requirements for PTC in advance of the federally-mandated deadline of December 31, 2020.
"Having our A-train rail system certified by the FRA in advance of the federally-mandated deadline is a significant accomplishment for our agency," Rony Philip, Senior Director of Rail Operations, said. "This further highlights our commitment of having rider safety as a top priority, as well as our strategic planning and dedication to ensuring approval of our PTC system."
DCTA's PTC Technology System Highlights
The agency's installed Enhanced Automatic Train Control (E-ATC) is a type of PTC system that uses an underlying automatic train control (ATC) system in conjunction with other enhanced features or systems to achieve the core required functionalities of PTC.
The E-ATC system is designed to ensure train movement over properly aligned track switches, prevent over speeding, prevent trains from running past stop signals and align train movements with restrictive operating conditions caused due to track and road crossing conditions. E-ATC also allows DCTA to leverage its fiber networks that enhance its existing signal system.
Historical Timeline of DCTA's PTC Testing & Implementation
May 2018

– started PTC testing and identified service modifications.

September 2019

–

received $4 million in grant funding to help with the continued implementation of PTC testing and implementation.

January 2019

-

started Revenue Service Demonstration (RSD) on limited trains with identified service modifications during the testing phase

.

August 2019

–

finished PTC testing and had its PTC safety technology implemented on all regular A-train service with passengers on board.

September 2019

– finished RSD and moved to extended RSD.

April 2020

– submitted Positive Train Control Safety Plan (PTCSP) for FRA review.

December 2020

– received PTC certification from the FRA.