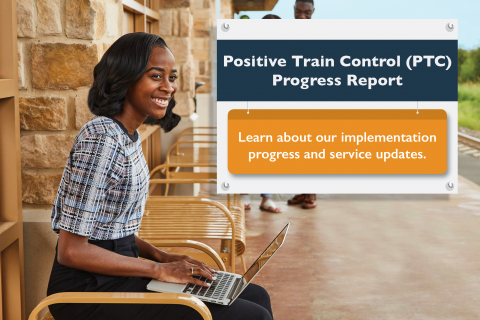 The Denton County Transportation Authority (DCTA) is going full speed ahead and is adding midday A-train service with the implementation of Positive Train Control (PTC) technology. Effective Monday, August 26, DCTA will have PTC safety technology on all regularly-scheduled trains with passengers on board the A-train.
The agency will also have a new A-train schedule to accommodate PTC implementation that will positively benefit riders. With the new train schedule, there will be improved A-train frequency all day (30-minute frequency). There will be a short break between 1 p.m. and 2 p.m. while trains are prepped and staffed for the remainder of A-train service schedule.
"We've reached a significant milestone at DCTA to have PTC technology on all our trains with passengers on board," said Raymond Suarez, DCTA CEO. "Safety is a top priority for DCTA, and our talented staff has worked diligently to ensure our PTC implementation process continues to meet federal deadlines so we can have a train system that has the highest form of safety technology for our riders."
The 411 on Positive Train Control
DCTA is implementing a PTC technology system which is a complex computer and cab signal-based system that helps prevent train incidents due to human error. The technology can prevent train-to-train collisions, derailments triggered by excessive speeding, unauthorized train movement onto sections of the track and movement of a train through a track switch left in the wrong position. PTC technology does not prevent the following:
Incidents due to trespassing on railroads

Train vehicle collisions on railroad crossings
New A-train Schedule with Added Midday Service and Increased Frequency
DCTA will add midday A-train service and updates to provide better connectivity to the Dallas Area Rapid Transit (DART) Green Line. Four northbound and four southbound trains are being added to the schedule which will reduce service gaps and provide more ride options for passengers in the middle of the day.
Riders will also notice a difference in A-train frequency and run times. Transit agencies nationwide that operate commuter rail systems have adjusted run times as an impact of implementing PTC technology. DCTA has modified its A-train schedule to reflect an increase of 12 minutes in run times (total run time of 44 minutes) due to the implementation of this safety-critical technology on-board the A-train. DCTA's second phase of PTC implementation is underway as the agency aims to improve travel times for a potential reduction in total run time.
Now with DCTA operating all train schedules in Revenue Service Demonstration (RSD), the agency will add back the two Friday evening trips and Saturday morning trip that were previously unavailable to riders during PTC testing and implementation that started last spring 2018.