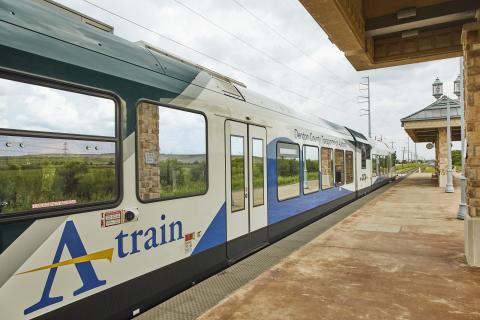 The Denton County Transportation Authority (DCTA) is now better positioned to continue its positive progress of Positive Train Control (PTC) implementation with assistance from the Federal Railroad Administration (FRA). The agency was recently awarded up to $4 million in grant funding to help with continued implementation of PTC – a technology that can help prevent collisions and other incidents by automatically detecting and controlling the movement of trains which could save lives.
The FRA awarded a total of $203,698,298 in grant funding for 28 projects in 15 states to assist with the deployment of positive train control (PTC) systems under the Consolidated Appropriations Act of 2018 for the implementation of PTC systems, via the Consolidated Rail Infrastructure and Safety Improvements (CRISI) program. The awards fund many aspects of PTC system implementation for intercity passenger or commuter rail and freight rail transportation including: back office PTC systems; wayside, communications, and onboard PTC system equipment; personnel training; PTC system testing; and interoperability.
Enhancements to PTC Technology for DCTA's A-train
DCTA has installed Enhanced Automatic Train Control (E-ATC) which is a type of PTC system that
uses an underlying automatic train control (ATC) system in conjunction with other "enhanced" features or
systems to achieve the core required functionalities of PTC. The E-ATC system is designed to ensure train movement over properly aligned track switches, prevent over speeding, prevent trains from running past stop signals and align train movements with restrictive operating conditions caused due to track and road crossing conditions. E-ATC also allows DCTA to leverage its fiber networks that enhance its existing signal system.
The funds DCTA received from the FRA CRISI grant enables the agency to implement cut sections, PTC programming changes, insulated joints, track circuit monitoring equipment, dispatch software/hardware integration with the E-ATC system temporary speed restrictions server, support training, and testing along the A-train corridor. Overall, the benefits include increased system and service performance, as well as safety improvements.
"Receiving this FRA grant is a huge win for the agency," said Raymond Suarez, DCTA CEO. "Not only does it enhance our PTC technology, but it provides needed funding for us to continue towards our goal of implementing PTC and entering revenue service by the deadline."
Current DCTA PTC Implementation Progress
DCTA is making good progress for PTC testing and implementation. All wayside (signal) and onboard (on the car) equipment were installed by January 2018. The agency completed static testing and dynamic testing has been ongoing since July 22, 2018. DCTA is the first public transit agency in Texas to begin testing on PTC and ranks in the top third of public transit agencies in the U.S. for PTC implementation progress.