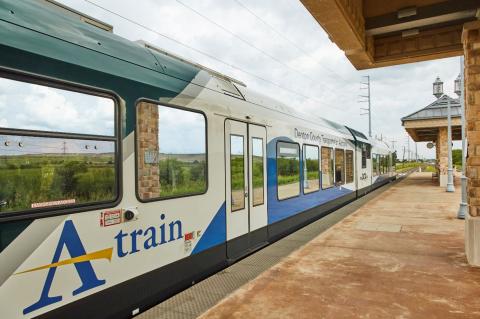 The Denton County Transportation Authority (DCTA) is moving closer to having its Positive Train Control (PTC) technology certified and implemented on its 21-mile A-train commuter rail line. The Federal Railroad Administration (FRA) recently approved DCTA's Revenue Service Demonstration (RSD) application, and the agency has now moved to the RSD PTC phase which entails operating revenue (regularly-scheduled) trains with PTC technology. The agency is the first in Texas to have RSD on its rail line and is currently operating select train runs in RSD.
"I'm proud of our talented and dedicated team that has been working diligently to keep DCTA moving forward with PTC testing and implementation," said Raymond Suarez, DCTA CEO. "PTC is a significant safety upgrade to our system, and we will continue to prioritize this project to ensure our A-train has the highest level of safety technology."
PTC is a complex computer- and GPS-based system that helps prevent human error from causing train accidents. The technology can prevent train-to-train collisions, derailments triggered by excessive speeding, unauthorized train movement onto sections of the track and movement of a train through a track switch left in the wrong position.
A-train Service Modifications During RSD PTC Testing Phase
DCTA has identified temporary A-train service modifications to maintain its progress on PTC testing and full implementation. On Friday, January 18, the agency began running its two Friday evening schedules and first Saturday morning schedule as "out of service" PTC RSD testing trains.
The suspended RSD trains will continue up until DCTA's next service change, in which all agency trains will be in RSD. The agency encourages riders who typically utilize these specific A-train schedules to make plans to board an alternate train.
Next Steps for DCTA's PTC Implementation Progress
DCTA was the first public transit agency in Texas to begin testing on PTC and ranks in the top third of public transit agencies in the U.S. for PTC implementation progress. As of December 31, 2018, DCTA has met the federally-mandated deadline to be in RSD for consideration of its alternate schedule request. The agency expects the FRA to certify its PTC technology by June 2020.
For more information about DCTA's progress of PTC testing and implementation, visit RideDCTA.net.