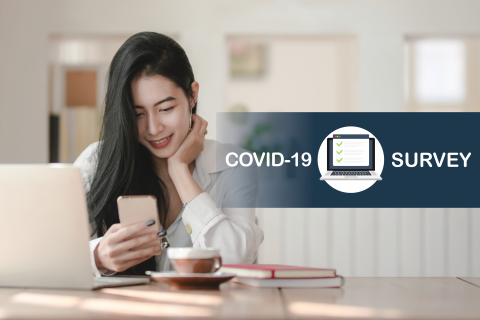 Now that we're more than six months into the coronavirus (COVID-19) crisis, the Denton County Transportation Authority (DCTA) wants to give passengers, stakeholders and community members the opportunity to provide feedback on the agency's COVID-19 response. From Monday, Oct. 5 through Sunday, Oct. 25, passengers can take the short online survey which will help the agency continue to keep its passengers and employees safe. The survey takes less than five minutes to complete.
DCTA's goal is to receive 417 survey responses, which represents 50 percent of the agency's daily July 2020 passenger ridership. The agency's COVID-19 online survey is available at DCTASurvey.net and is available in English, Spanish and the Hakha Dialect of Chin.
Below are key topics the agency is seeking feedback from passengers:
DCTA's general COVID-19 response

Feedback on DCTA's current safety measures and protocols

If people are riding DCTA during COVID-19 (why and why not)

What makes passengers feel safe riding DCTA
"The survey results will provide us at DCTA with insight on riders' view of public transportation during COVID-19 and will help us make the best decisions to continue to keep our system, vehicles and facilities safe for passengers and employees," DCTA CEO Raymond Suarez said. "We welcome everyone to share their input which will enable us to determine future mobility options to meet the ever-changing needs of our communities."
All respondents who fully complete the online survey will be entered in a random drawing to win one of three $100 Amazon gift cards. All completed surveys must be received no later than 5 p.m. on Sunday, Oct. 25, to be entered in DCTA's prize drawing.
Since the start of the COVID-19, DCTA has worked diligently to keep passengers and employees healthy and ensure a safe commute for riders. With enhanced vehicle and facility cleanings, social distance and mask mandates and continuing evaluation for agency protocols; DCTA continues to serve essential workers, members of the community and passengers.
Learn more about what we're doing at DCTA to keep our communities safe and moving forward at RideDCTA.net.