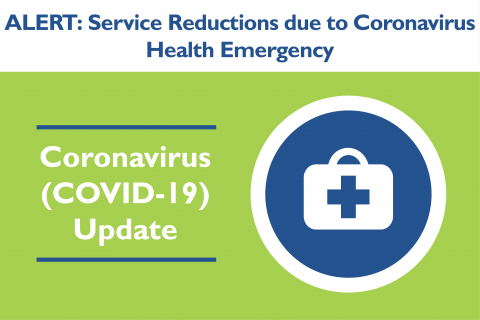 The Denton County Transportation Authority (DCTA) will reduce service hours and frequency effective Monday, March 23, in response to the coronavirus (COVID-19) health emergency. The reduction in service hours is in response to the urgent public guidance from regional leaders, along with emergency health orders to cancel events, close schools and offices, practice "social distancing" and limit social gatherings across Denton County and North Texas. DCTA will continue to operate as the agency is considered an essential business by the Denton County "Stay at Home" declaration.
For updates on DCTA's response to COVID-19 and what the agency is doing to help keep riders and employees safe, visit RideDCTA.net.
"The goal of our service reduction is to help reduce the risk of spreading illness and germs throughout the Denton County community and North Texas," DCTA CEO Raymond Suarez said. "We are working closely with public health officials and monitoring the COVID-19 health situation diligently in order to do what is best for our passengers, employees and residents."
The agency will reduce A-train and Connect Bus service as follows:
A-train service will be provided hourly Monday through Friday from 6 a.m. to 9 p.m. Saturday service will remain the same.
As bus service will end prior to A-train service, DCTA will provide on-demand service to assist rail passengers to get to their final destination. This on-demand service will be provided from the Downtown Denton Transit Center, MedPark station, Old Town station, and the Hebron station. The on-demand service will operate similarly to DCTA's Lewisville Lakeway Zone, where customers can request a trip using the Spare Rider app available for download in the Apple and Google Play stores. Download instructions on how to use the on-demand service here.
Denton and Lewisville Connect fixed route service will continue to run the same routes, with reduced service hours and frequency. Service will operate Monday through Friday on a modified Saturday schedule, with an additional trip provided in the morning. Saturday service will remain the same as the current schedule.
Access service will be available during the same hours as Lewisville and Denton Connect service.
Visit our Schedule Changes page to view all new A-train and Connect Bus schedule.
University of North Texas and North Central Texas College Campus Shuttle Service Schedules
Shuttle service for the University of North Texas (UNT) and North Central Texas College (NCTC) will be updated based on university and college closures. Students can visit RideDCTA.net for more up-to-date information.
DCTA's Transit Tracker will not be updated with new schedules and the agency's online trip planner at RideDCTA.net will not be updated until Monday, March 30. PLEASE NOTE: DCTA is not adjusting fares, despite service reductions and schedule modifications.
Below are additional updates for other DCTA services and facilities:
Other DCTA Service Schedules
Additional DCTA services and programs will remain the same, including Lewisville Lakeway On-Demand, Highland Village Lyft program, Lewisville Access to Flower Mound Lyft program, Frisco Demand Response, North Texas Xpress and Collin County Transit
Downtown Denton Transit Center Closure
The lobby and restrooms are closed at the Downtown Denton Transit Center (DDTC). Customer service will remain open to assist passengers and allow customers to purchase passes from the ticket window. The ticket window and customer service hours will remain the same:
Monday through Friday from 5 a.m. to 7 p.m.

Saturdays from 8 a.m. to 4 p.m.

Closed on Sundays
DCTA encourages riders to sign up for Rider Alerts and follow the agency on Facebook and Twitter to receive real-time information regarding facility closures and service changes.