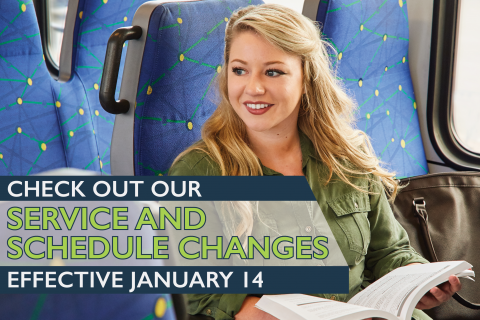 On Monday, January 14, 2019, big changes will go into effect for Denton County Transportation Authority (DCTA) passengers. The agency will implement fare, service and schedule changes that will provide more real-time mobility options, easier fare structure, permanent lower local ticket prices and updated programs to better serve riders.
"We have significant plans for our January 2019 service changes to improve how we do business to better serve our stakeholders and riders," said Raymond Suarez, DCTA President. "Our main priorities with these changes are to improve mobility and livability in the many communities we serve."
Below is a list of key changes that will go into effect Monday, January 14, 2019:
New Fare Structure to Provide Lower Ticket Options and Ease of Use for Riders
Current fare prices featured in DCTA's Local Fare Promotion will become permanent, which will encourage ridership and continue to offset the recent increase in regional fares. Key soon-to-be permanent DCTA local fare highlights include the Local Day Pass priced at $3 (was $6 before Local Fare Promotion), Local 31-Day Pass priced at $48 (was $90 before Local Fare Promotion) and the Local Annual Pass priced at $480 (was $650 before Local Fare Promotion).
In addition, the agency will discontinue its connect fare and all DCTA local fare will be categorized as local day, local a.m. and local p.m. fare. This will reduce the need for transfers and allow riders to have access to more DCTA services at a cheaper price. More information about DCTA's new local fare structure can be found at RideDCTA.net.
Key Updates to DCTA University Programs and Promotions
DCTA and the University of North Texas (UNT) will extend the university's Lyft program for students that launched August 2018. The program provides students traveling within the specified UNT Lyft Zone with a complimentary Lyft ride for save travel after hours. The service is available from 2 a.m. to 7 a.m., seven days a week. All program parameters will remain the same.
Starting January 14, 2019, DCTA's University A-train Free Ride promotion will no longer be available. The current promotion allows UNT, Texas Woman's University (TWU) and North Central Texas College (NCTC) students, faculty to ride DCTA's A-train for free with a valid university identification card. In addition, the North Texas Xpress service which was also free for university students, faculty and staff in conjunction with the University A-train Free Ride promotion will also no longer be free come January 14, 2019.
DCTA Expanding its Microtransit Service for More Real-Time, Flexible Rides
DCTA will launch a new on-demand, microtransit service that will provide travel options for those needing to access the Lakeway Business Park area in Lewisville and surrounding businesses in the designated zone. There will also be a stop at DCTA's Hebron station for connections between Connect Routes 21 and 22, the A-train and the Lewisville Lakeway Zone. This new service will replace the portion of Lewisville Connect Route 21 through the Lakeway Business Park area and will require a local fare to ride.
Microtransit service offers real-time flexible routing and scheduling of vehicles. Similar to Uber and Lyft, DCTA-branded vehicles will carry a handful of riders at a time. Passengers can book a trip in real time via the Spare Rider mobile app, which can be downloaded from the Apple and Google Play store, or by phone calling 940.243.0077.
In addition, the agency's current Denton Enterprise Airport On-Demand service will change from a pilot program to a regular service the agency will offer passengers. The service will now require a local fare and will no longer be free for riders, except for University of North Texas (UNT) and North Central Texas College (NCTC) students, faculty and staff who can ride free with a valid ID.
Enhancements to Bus Service for a Better Rider Experience
DCTA is making tweaks to some of its existing bus routes which include:
Denton Connect Route 7

: The routing has been changed so it no longer travels from Hickory, north on Locust to McKinney, and south on Railroad to the Downtown Denton Transit Center (DDTC). The new routing has it traveling continuously down Hickory Street until it gets to the DDTC. In addition, DCTA updated the schedule.

Lewisville Connect Route 21

: The portion of this route that serves the Lakeway Business Park Area in Lewisville will be replaced with the new Lewisville Lakeway On-Demand service.

Mean Green Night Rider and Discovery Park Campus Shuttles

: The Saturday schedule for both UNT Campus Shuttles will become the current Sunday schedule.