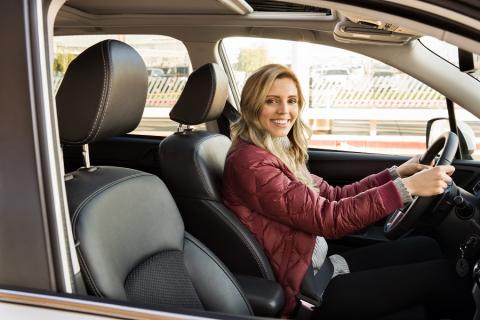 The University of North Texas (UNT) is proud to announce their partnership with the Denton County Transportation Authority (DCTA) and Lyft in launching a new pilot service that will provide students with safe and reliable on-demand service after hours when they travel in the newly designated UNT Lyft Zone. The program began Friday, August 17, 2018, and will end Saturday, December 15, 2018.
UNT Lyft Pilot Program Details to Know
The pilot program will provide students traveling within the specified UNT Lyft Zone with a complimentary Lyft ride. The service will be available from 2 a.m. to 7 a.m., seven days a week. Below are key program parameters:
Eligibility

– only currently enrolled UNT students are eligible to participate in the program.

UNT Lyft Zone

– the official zone includes three campus areas: Main Campus, Oak Street Hall and Victory Hall/Mean Green Village, in addition to areas around Fry Street.

Terms of Service

– the Lyft platform is not available to persons under the age of 18. For additional information regarding Lyft's terms of service, visit

lyft.com/terms

.
"As with any service offered on campus, we hope to give the students the alternatives they need to have safe and reliable methods of transportation while they're on UNT campus. Additionally, this leverages our partnership with DCTA and makes the most economical use of the student Transportation Fee, which has not increased in 15 years," said Chris Phelps, UNT Senior Director of Transportation Services.
UNT's E-Ride service will remain available from 7 p.m. to 2 a.m. Monday through Thursday, and from 4 p.m. to 2 a.m. Friday through Sunday.
How to Book a Free Lyft Ride
To participate in the program, students must download the Lyft mobile app. Once the app is downloaded and a personal user account has been established, students can follow the instructions below to access the program benefits:
In the Lyft app, click on your photo in the top left of the screen and then select "Promos."

Enter the promo code UNTRIDEFALL18 to enroll in the discount program. This is the only time a user must enter the code to enroll in the program for the semester.

Users will be able to view

the program terms in the Promo section, including how many rides they have left in the current month.

To view the UNT Lyft Zone, users can select "view coverage area" in the promotional section.
The free ride discount will be automatically applied to an eligible trip before it's requested. In addition, the discount will be automatically applied every time a user takes an eligible trip within the designated UNT Lyft Zone during the program service hours. More program information can be found at transportation.unt.edu/e-ride.
"We are excited to be partnering with DCTA and UNT to offer this unique, late-night service program," said Yohan Bobcombe, Market Manager of Lyft Dallas-Fort Worth. Our partnership allows students to get a responsible and reliable ride home during late night hours across campus."
Throughout the pilot program, modifications may be made to improve the service to students. Any modifications to the program will be communicated to students at large. DCTA welcomes participant feedback via its GORequest mobile app to help optimize the program over time and continue to provide alternative mobility solutions for riders.
"Extending our partnership with Lyft to serve UNT aligns with our goal of providing innovative mobility options to meet the growing needs of our partners and the communities we serve," said Nicole Recker, DCTA Vice President of Marketing and Communications.
For more information about the new UNT Lyft on-demand pilot service, visit RideDCTA.net.