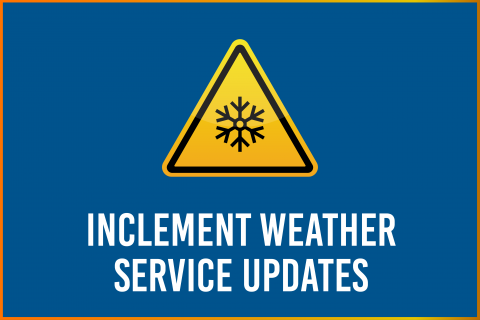 With severe winter weather forecasted for the area beginning the afternoon of Wednesday, February 2, the Denton County Transportation Authority (DCTA) is taking precautions to keep passengers and employees safe. During this time, passengers who ride DCTA are encouraged to take caution at bus stops and shelters, in parking lots and on A-train platforms.
DCTA's operations team is working around the clock to monitor weather conditions and evaluate potential implications for DCTA services across the system. Beginning Wednesday evening, rail operations staff will light the rail switch heaters to prevent any snow/ice-related failures on the A-train corridor. Staff is also monitoring road conditions to determine adjustments to the Agency's bus service and coordinating with Via on GoZone as needed.
In the event of severe winter weather, riders should anticipate potential delays throughout the day and dress appropriately.
DCTA will continue to monitor the forecast and adjust service operations accordingly to keep riders safe. Please make sure to sign up for Rider Alert notifications to stay up to date on DCTA services during inclement weather. In addition, passengers should also note that DCTA's Transit Tracker system may not provide accurate arrival information for agency vehicles.
All future updates regarding any service delays or interruptions will be sent to passengers via DCTA's Rider Alert notifications, Facebook, Twitter and at RideDCTA.net/winterweather. Continue to monitor local media outlets for weather updates and further information on area transit availability.