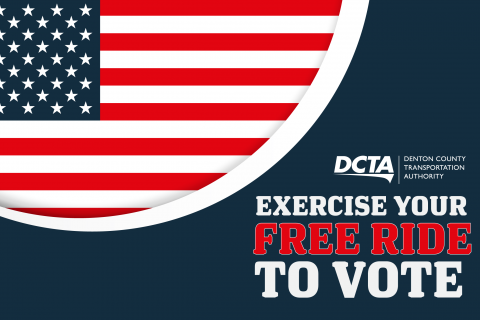 Headed to the polls this election season? Vote and get a free ride! On Tuesday, November 2, voters can ride Denton County Transportation Authority (DCTA) free to cast their ballot. No proof of voter registration or destination is required to ride DCTA free on these days.
DCTA Services Included in Free Ride Promotion
The promotion is valid on the following DCTA services:
• A-train commuter rail
• Connect Bus system (Denton and Lewisville)
• University of North Texas (UNT) Campus Shuttles
Denton County voters can locate their polling places and check their registration status at votedenton.com or by using the Denton County interactive map. Election Day voting is from 7 a.m. to 7 p.m.
For passengers planning to transfer to Dallas Area Rapid Transit (DART) or Trinity Metro services during DCTA's Election 2021 free ride promotion, both agencies are offering free rides. Passengers should check each agencies' website for more details on their Election 2021 free ride promotions or purchase proper fare for that portion of their trip.
Planning Your Free Trip to the Polls
As a reminder, don't forget to check our A-train and Connect Bus schedules when planning your trip. Passengers can use our Transit Tracker system to find and track their ride via the mobile app, online, text or calling our customer service team at 940-243-0077. For trip planning needs, passengers can utilize our Trip Planner at RideDCTA.net.
How to Stay Safe When You #RideDCTA
DCTA is working diligently during the coronavirus (COVID-19) pandemic so you can rock the vote the safe way! We encourage passengers to exercise proper safety techniques to help prevent the spread of COVID-19. Simple ways you can stay safe include:
• Wear a face covering and maintain social distancing
• Wait for others to disembark before boarding a DCTA vehicle
• Bring your own personal hand sanitizer to utilize before and after voting
• Consider voting early so you can avoid crowds
For more information on the 2021 DCTA and regional joint election free ride campaign, visit here.