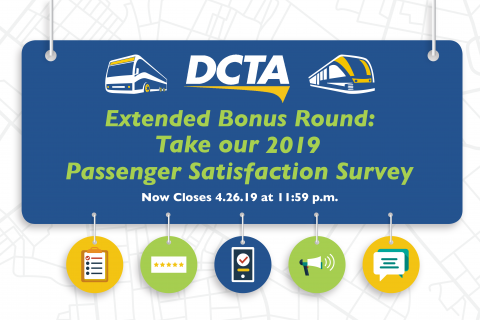 Update:
We're extending our Passenger Satisfaction Survey until Friday, April 26, giving you another week to win big! We've even added more prizes to sweeten the pot.
Not only can you win one of three $100 Amazon gift cards, but we're also throwing in a $250 Amazon gift card AND a local annual pass (valid on DCTA only)! Read more about the extension here: http://bit.ly/2Zn6b55
Denton County Transportation Authority (DCTA) riders will soon have their chance to provide feedback on the agency. On Monday, April 8, DCTA will release its biennial passenger satisfaction survey to gather input from riders on their perspective on DCTA services, amenities and passenger tools. The survey will provide insight on the demographics and travel patterns of DCTA riders, as well as help the agency make the best decisions to help improve mobility, air quality, economic development and livability in the many communities the agency serves.
DCTA's goal is to have a statically-valid survey in which the agency will need to receive a minimum of 2,329 survey responses, which represents 20 percent of DCTA's 11,644-average daily passenger count.
WIN PRIZES WITH DCTA'S SURVEY
Passengers who fill out the required survey questions will be entered in a random drawing to win one of three $100 Amazon gift cards. All completed surveys must be received no later than Friday, April 19, at 5 p.m. to enter the drawing. The print and online survey will be available in English, Spanish and the Hakha Dialect of Chin.
WHERE AND HOW TO TAKE THE SURVEY
Surveys will be made available online at DCTAsurvey.net, the Downtown Denton Transit Center (DDTC) and onboard DCTA vehicles. Riders can return completed surveys to a DCTA representative, bus or rail operator or the ticket counter at the DDTC. Survey results will be presented to DCTA's Board of Directors at the June 2019 board meeting.