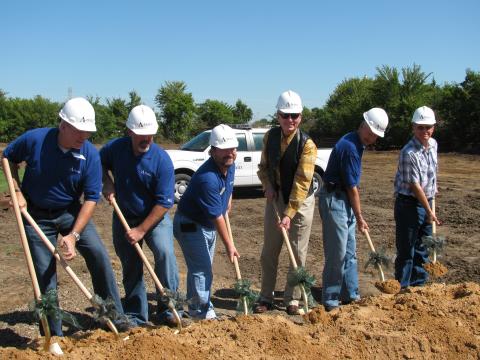 The Denton County Transportation Authority (DCTA) is honoring longtime Board Chairman Charles Emery for his years of dedication and service to the agency by renaming its Old Town station in the city of Lewisville "The Charles Emery Old Town Station."
DCTA will host an RSVP-only renaming event starting at 1:30 p.m. on Tuesday, October 29, at the Medical City Lewisville Grand Theater where the agency will celebrate Emery's dedication to DCTA with the unveiling of a permanent bronze plaque highlighting his many accomplishments. The event will be attended by prominent figures in North Texas and in Emery's life.
"Charles has been invaluable to the agency and was a major factor in bringing mobility solutions to Denton County," DCTA CEO Raymond Suarez said. "His leadership and guidance helped shape DCTA into the agency it is today and our bright future that lies ahead."
Significant Contributions to DCTA and the North Texas Region
While chairing the DCTA board for 18 years, Emery was heavily involved in the growth of the agency, including the expansion of DCTA's footprint to include a commuter rail with the 2011 opening of the 21-mile A-train, which connects Denton County to the Dallas Area Rapid Transit (DART) Light Rail system in Carrollton, TX.
Other major accomplishments include:
Launching DCTA's Mobility as a Service (MaaS) contract model which is one of the first in the U.S. that is available to other public agencies that utilizes on-demand, real-time platform-based services that can include any combination of various mobility options

Signing one of the largest contract agreements in agency history with First Transit, Inc.

Being the first in the county to use Stadler rail vehicles

Implementing innovative mobility services with the city of Frisco (autonomous vehicles), city of Highland Village (Lyft program), city of Lewisville (microstransit service), the city of Denton (microstransit service) and Collin County (taxi voucher program).
During his tenure at DCTA, Emery was awarded "Board Member of the Year" in 2007 from the American Public Transportation Association (APTA), a nationwide organization of transportation professionals.
Emery and his wife, Elaine, have served Denton County in a variety of ways over the years. Emery was a member of the Lewisville City Council, an active member of the Lewisville and Dallas Chambers of Commerce and served on the Dallas Regional Mobility Coalition, the Regional Transportation Council (RTC) of the North Central Texas Council of Governments (NCTCOG) and the Tarrant Regional Transportation Coalition (TRTC) for more than 15 years.
Emery's History and Background
Emery is a sixth-generation Denton County resident. He conducted his undergraduate studies in Engineering, Finance and Accounting at Texas A&M and University of Texas at Arlington (formerly in the Texas A&M System) with graduate work at Southern Methodist University. Charles served in the United States Air Force and Air National Guard during the Vietnam era.
In his professional career, he owned an engineering firm, Forest and Cotton, where he spent 18 years and held the titles of Vice President and Chief Operating Officer and was the National Marketing Director. Emery was also named Senior Vice President of Lomas Realty USA and served as Executive Vice President and Chief Operating Officer for Vista Properties, Inc., and Centex Development Company.
DCTA is honored to dedicate its Old Town station to Emery and his many accomplishments that have shaped innovative mobility in Denton County and throughout North Texas.