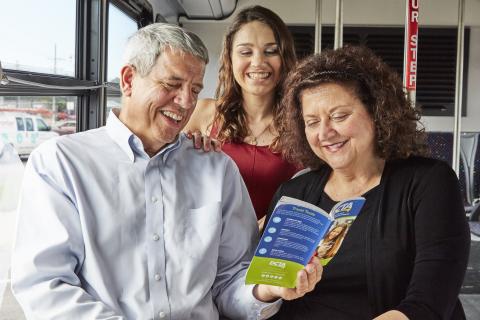 Last month, the Denton County Transportation Authority (DCTA) Board of Directors approved the agency's FY'18 Strategic Planning Guidance Report which focuses on key priorities to enable the agency to providing safe, customer-focused and efficient mobility solutions and be a leader in advancing mobility alternatives. The report highlights DCTA's commitment to offer more alternative and innovative mobility options to improve the quality of life where residents live, work and play.
DCTA's Board of Directors Set Overall Priorities and Guidance
Denton and Collin counties are projected to be the nation's fastest growing economies over the next five years, according to an Oxford Economics forecast. With this impending growth, DCTA's Board of Directors has set the following priorities and guidance for the agency in FY'18 (October 2017 to September 2018):
Grow ridership and improve service in Denton, Highland Village and Lewisville

Expand focus to providing "mobility" versus delivering "public transportation" to best serve riders

Lead implementation of innovative mobility solutions

Always place safety and regulatory compliance first and maintain transparency

Continue seeking alternatives for unserved areas of Denton County and contiguous areas

Sustain and grow Frisco and McKinney Urban Transit District (MUTD) area services

Build stronger relationships with stakeholders
"This strategic plan will allow us to design a more robust system to meet the increasing mobility needs of the many communities we serve," said Jim Cline, DCTA President. "Continued support from our stakeholders and riders is vital to our success in shaping the future of mobility in Denton and Collin counties."
Progress Made from FY'17 Strategic Planning Guidance Report
Within DCTA's last fiscal year (October 2016 to September 2017), the agency has experienced numerous successes that has enhanced operations, demonstrated the agency's commitment of financial stewardship and more innovative mobility solutions to better serve riders. Specific project highlights include:
Implemented bus service changes (consistent headways, improved coordination) in Lewisville, Denton and Highland Village

Began single A-train car operations which resulted in $1 million in savings annually that will allow for increased availability of fleet to increase A-train service levels

100 percent of Positive Train Control (PTC) installation completed

Received a clean FY'17 financial audit

Executed service contract with the City of McKinney (on behalf of MUTD) for elderly and persons with disabilities in McKinney, Celina, Prosper, Melissa and Princeton

Continued elderly and disabled service in the City of Frisco and expanded to serve portions in the City of Plano

Garnered strategic acquisitions initiated

$178,200 in federal grants

beyond formula funds and $5 million in

North Central Texas Council of Government (NCTCOG) transportation development credits

awarded to DCTA
Short and Long-term DCTA Goals
DCTA has focused its strategy to include immediate, short and long-term goals which include:
Immediate Goals (within in 12 months)

– enhance outreach to stakeholders, increase ridership, PTC implementation no later than December 31, 2018, complete A-train Rail Trail construction, and execute long-term agreement with the University of North Texas (UNT)

Short Goals (within in 24 months)

– implement safety and security enhancements, complete strategic acquisitions, facilitate development near stations to increase ridership and property values and focus planning on east/west movement for jobs

Long-Term Goals (within five years)

– move into a permanent administrative office space, implement A-train extensions, execute long-term agreement with Texas Woman's University (TWU) and implement service on BNSF from Belt Line to Celina
To view DCTA's entire FY'18 Strategic Planning Guidance Report, visit DCTAFuture.net.