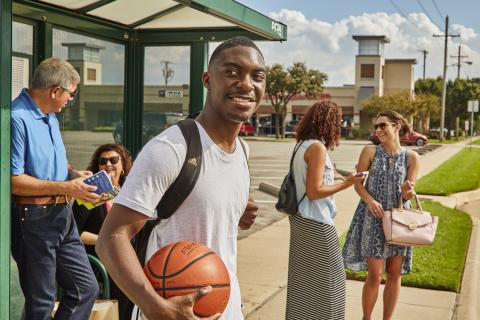 The Denton County Transportation Authority (DCTA) will host a series of open house meetings in April to share major agency projects and initiatives, including: regional fare changes, August 2018 service changes, Access policies and procedures, EPA Brownfields assessments grant, A-train Rail Trail, and job access and connectivity opportunities. The come-and-go meetings will give the public an opportunity to speak with individual DCTA staff members about the presented topics.
Top Reasons to Attend
DCTA has numerous projects happening in the next couple of months and needs rider feedback to enhance service and projects for the many communities the agency serves. Below are specific highlights for some of the topics that will be discussed during the meetings:
Regional Fare Changes

– proposed 20 percent fare increase for regional fares based on the region's decision to increase fares

August 2018 Service Changes

–

Proposed service changes in Lewisville (going from two routes to four routes and an on-demand zone)

Proposed changes to the Eagle Point route (UNT Campus Shuttle) that will provide additional access to the campus

Proposed new route and on-demand zones to provide additional connection between Denton and Alliance
Open House Meeting Locations
Meetings will be held in Lewisville, Denton and Highland Village:
Lewisville

–

meeting will be held on Monday, April 16, from 5:30 p.m. to 7:30 p.m. at Lewisville City Hall in the lobby area in conjunction with the city council meeting (151 W Church St.)
Denton

–

meeting will be held on Wednesday, April 18, from 3 p.m. to 7 p.m. at the Downtown Denton Transit Center in the lobby area (604 East Hickory St.)

Highland Village

–

meeting will be held on Tuesday, April 24, from 6 p.m. to 8 p.m. at Highland Village City Hall in the lobby area in conjunction with the city council meeting (1000 Highland Village Road)
Online Presentation and Comment Form
For those who are unable to attend, DCTA has a digital presentation that provides details on all the topics that will be covered at the public meetings. The presentation is available at RideDCTA.net from Friday, April 13, until Friday, May 4. An online feedback form will also be available and individual comments are highly encouraged.
Everyone is welcome to attend the open house meetings. Persons with hearing or sight interpretive service needs are asked to contact DCTA at least five business days in advance of the meeting at 972.221.4600 or via email at dctainfo [at] dcta.net () so that DCTA can accommodate requests.