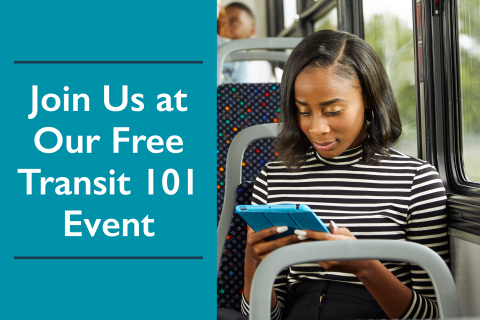 Need tips to help improve your #DCTA riding skills? Attend our Transit 101 event on Thursday, June 27, to find out how to #RideDCTA like a pro! This quarterly educational event is designed to provide riders and the general community with helpful passenger information to enhance their experience when they ride our services.
The event will be held at the Lewisville Public Library (1197 W. Main St.) in the Crawford meeting room from 3 p.m. to 5 p.m. A formal presentation is scheduled to begin at 3:15 p.m. with a Q&A to follow. Anyone is welcome to attend, and no reservations are required for this event.
The following topics will be discussed during the Transit 101 event:
How to ride

Types of fares (and how to use them)

Route and schedule information

Other DCTA services

Customer service tools
Event goers will have the opportunity to speak with our staff to get in-depth rider tips and travel training assistance. We encourage feedback to help enhance future travel training events. If attendees have more specific concerns to report to DCTA, we ask that they submit them via our GORequest system.
For questions about our upcoming Transit 101 event this month, please contact Samantha Balderas at sbalderas [at] dentontransit.com.