The NCTC Shuttle is a DCTA service offered in partnership with North Central Texas College (NCTC) to provide direct shuttle service to the Corinth and Flower Mound campuses as well as connectivity between Denton and Lewisville.
Acceptable Fare
The NCTC Shuttle is open to any rider with exact cash fare of $3.00 for adults or $1.50 for elderly, disabled or Medicare cardholders and students (ages 5-18, students over the age of 14 require valid high school or DCTA issued ID). Valid DCTA Local System and Regional fare options are accepted as well as valid DART, Trinity Metro Regional Passes. NCTC students, faculty and staff with a valid NCTC ID ride the NCTC shuttle and Connect bus service for no additional fare.
DCTA Service Connections to the NCTC Shuttle
In Denton, NCTC Shuttle passengers may transfer to and from the A-train and any Denton Connect Route at the Euline Brock Downtown Denton Transit Center as well as Denton Connect Route 2 and the A-train at the MedPark Station. In Lewisville, passengers may transfer to and from the A-train and Highland Village Lyft Service at the Highland Village/Lewisville Lake Station as well as both Lewisville Connect routes at Summit and Civic Circle.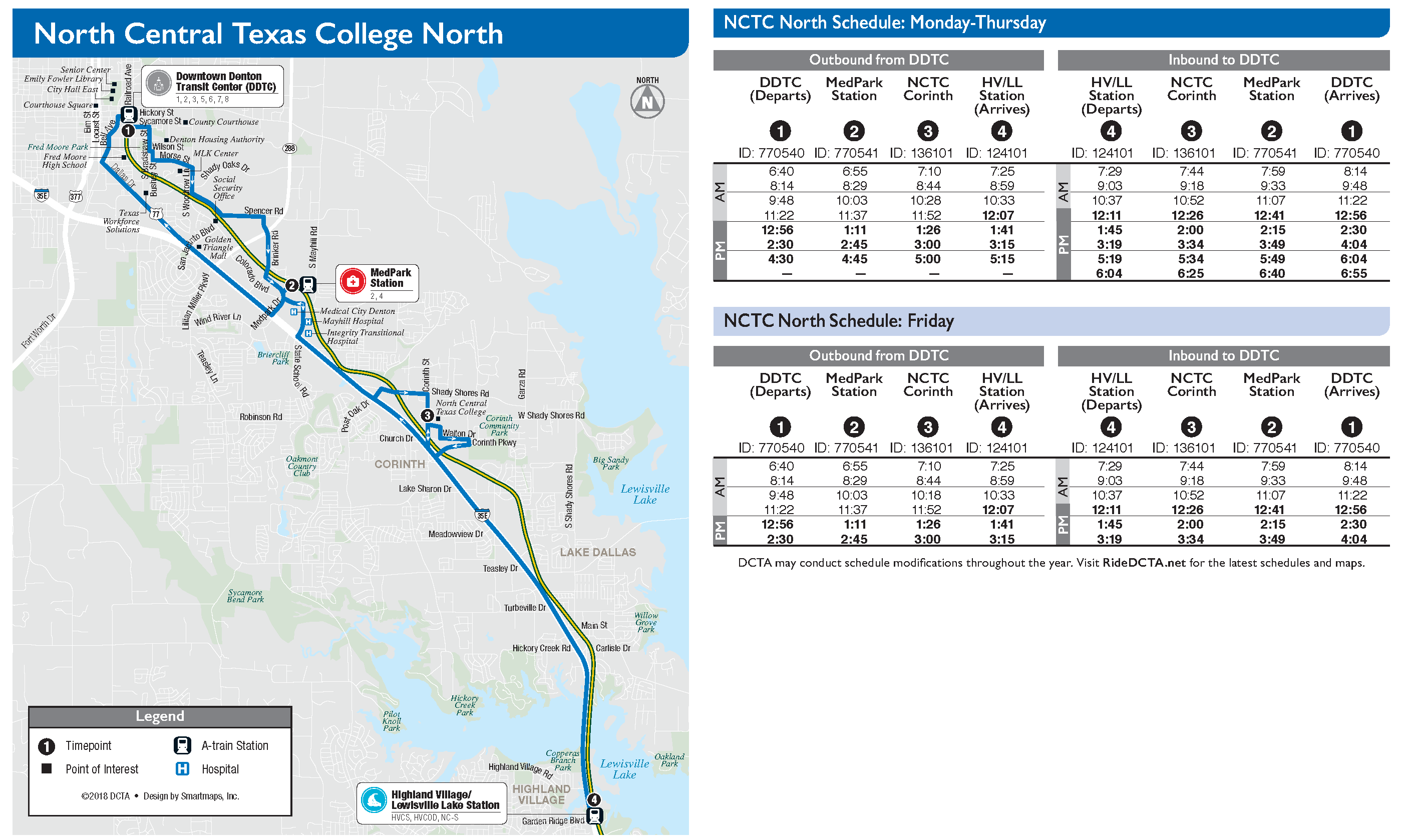 NCTC Shuttle Hours & Holidays
During the academic year, the NCTC Shuttle operates Monday through Friday. No service on New Year's Day, Memorial Day, Independence Day, Labor Day, Thanksgiving Day, Christmas Day and days when classes are not held. The campus shuttle may not operate during mini-mesters in the winter and spring at the discretion of North Central Texas College.
To view a downloadable calendar, click here.