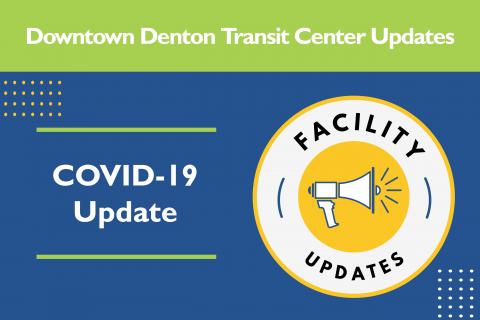 Starting Monday, June 7, the Denton County Transportation Authority (DCTA) will reopen its Downtown Denton Transit Center (DDTC) lobby for limited capacity. The DDTC lobby will be open Monday through Friday from 7 a.m. to 11 a.m. and 1 p.m. to 6 p.m. During the midday break, the lobby will be sanitized and cleaned, but passengers can still purchase fare at the ticket counter during this time.
There will be limited seats available to encourage social distancing practices. The agency plans to fully reopen the lobby once the federal mask mandate is lifted. DCTA will continue to require face coverings on all agency vehicles, at DCTA bus stops and train stations, and in the DDTC in alignment with the Transportation Security Agency's (TSA) extension of the transit mask requirement.
DCTA's Customer Service team will remain available by phone to assist passengers with questions at 940-243-0077. The agency encourages riders to sign up for Rider Alerts and follow DCTA on Facebook and Twitter to receive real-time information regarding facility closures and service modifications.
The agency's Lost and Found policy will remain the same. Passengers will still be able to pick up lost and/or misplaced items. If an item is located in lost and found based on the description provided over the phone, DCTA's Customer Service team will coordinate with that individual for pickup. For more information, visit DCTA's Lost & Found Policy page.
To learn more about what DCTA is doing to protect its passengers, visit RideDCTA.net/health.