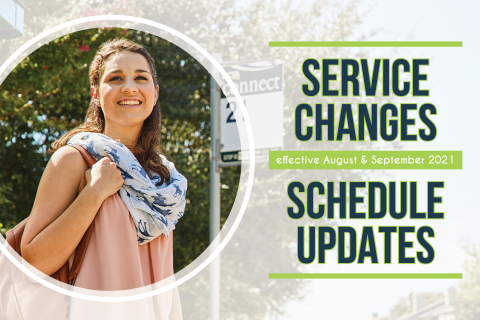 Effective Monday, August 23, we will implement Denton and Lewisville Connect Bus service and schedule changes to better optimize route times and improve on-time performance. The University of North Texas (UNT) will also transition to its fall service schedule and include new routes.
On Tuesday, September 7, we will implement A-train service changes to increase frequencies during the weekday and weekend. The goal for our annual service changes is to enhance our system to operate efficiently and support the ridership needs of the many communities we serve.
Denton and Lewisville Connect Bus Service Updates
To enhance run times and on-time performance, we plan to update Denton Connect Bus Routes and Lewisville Connect Bus Routes. In addition, some routes will have reduced operation due to bus operator shortage. Below is an overview of key changes:
Routes 1, 2 and 6

Routes 3 and 7

Routes 4, 21 and 22

Temporary reduced service due to bus operator shortage and new schedules
University of North Texas Campus Shuttle Fall Schedule & New Routes
The UNT Campus Shuttle schedules will be updated to transition to its fall schedule. In addition, there will be new Campus Shuttle routes added. Below is an overview of service updates:
BST 161, CE 171, DP 141, MG 111, EP 131, MGP 113, MGNR 116

Small changes in the times

CP 151

Route change which includes Sam Bass and Point Bank stops removal

NT 121

: NT has moved from Fouts Field to the Union and will continue to serve "The Retreat"

New Campus Shuttle routes:

DS 181:

New route serves the north side of the Forum apartments, NTX apartments and the south side of the Arch apartment

PE (A&B):

Parking Express Victory Hall and Parking Express Fouts Field routes will be combined into one route to add capacity and the routes will hub out of Highland Street garage
For more information on our UNT Campus Shuttle Route Numbering Guide, visit our blog.
A-train Schedule Updates
We're proposing to increase A-train frequencies that will be presented to our board of directors on Thursday, August 26, for approval. Once approved, the new A-train schedule will go into effect Tuesday, September 7. Below are the train schedule updates being proposed:
Monday through Thursday

will run on a 30-minute frequency

Fridays

will run on a 30-minute frequency

Saturdays

will run every hour
At DCTA, we are taking the necessary precautions to make sure agency vehicles are safe and clean for passengers so that when they are ready, they can hop back on board. We encourage riders to sign up to receive our Rider Alerts and follow us on Facebook and Twitter to receive real-time information regarding service and facility updates.