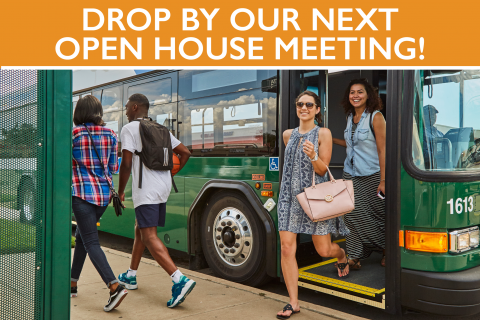 Fare changes are coming soon for Denton County Transportation Authority (DCTA) riders. The agency will host a series of open house meetings in November to share information on its proposed new fare structure that will go into effect January 14, 2019. The come-and-go meetings will give the public an opportunity to speak with and provide feedback to individual DCTA staff members.
Easier Fare Structure, New Programs and Lower Ticket Price Options to Benefit Riders
DCTA is proposing that its current fare prices featured in the agency's Local Fare Promotion become permanent, which will encourage ridership and continue to offset the recent increase in regional fares. Key soon-to-be permanent DCTA local fare highlights include the Local Day Pass priced at $3 (was $6 before Local Fare Promotion), Local 31-Day Pass priced at $48 (was $90 before Local Fare Promotion) and the Local Annual Pass priced at $480 (was $650 before Local Fare Promotion). More proposed permanent fare prices can be found at RideDCTA.net.
In addition to making fares in DCTA's Local Fare Promotion permanent, the agency is proposing the additional fare structure changes:
Local Fare

Structure Update– connect fare will be removed and all DCTA local fare will be categorized as local day, local a.m. and local p.m. fare. This will reduce the need for transfers and allow riders to have access to more DCTA services at a cheaper price.

Updated Reduced Student Fare

– the agency is proposing to replace its current University Pass Program with a new reduced student fare which will provide students at secondary and higher educational institutions with lower fare options.

New Educator Discount Pass Program

– the agency plans to launch a new discount program in which educators of all types will qualify for a 50 percent discount on Local and Regional fare.
Open House Meeting Locations
Meetings will be held in all DCTA member cities:
Lewisville

– meeting will be held on Saturday, November 3, from 9 a.m. to noon at Lewisville's Community Resource Expo at the Next Steps Center (1305 TX-121 BUS)

Highland Village

– meeting will be held on Saturday, November 3, from 10 a.m. to 2 p.m. at Highland Village's Fall Festival at Unity Park (2200 Briarhill Blvd)

Denton

– two meetings will be held at the following locations:

Thursday, November 8, from 3 p.m. to 6 p.m. at the Downtown Denton Transit Center (DDTC) in the lobby area (604 East Hickory St.)

Saturday, November 10, from 10 a.m. to 2 p.m. at the Denton Welcome Center on the Square (111. W. Hickory Street)
Online Information and Comment Form
For those who are unable to attend, DCTA has information online at RideDCTA.net that provides all details on the agency's proposed new fare structure. The online presentation will be available from Monday, October 29, until Friday, November 16. An online feedback form will also be available and individual comments are highly encouraged.
Everyone is welcome to attend the open house meetings. Persons with hearing or sight interpretive service needs are asked to contact DCTA at least five business days in advance of the meeting at 972.221.4600 or via email at dctainfo [at] dcta.net () so that DCTA can accommodate requests.