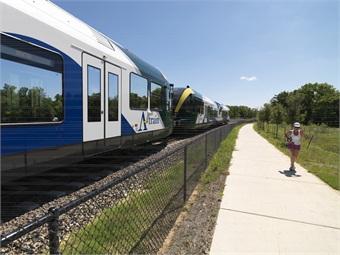 The Denton County Transportation Authority's (DCTA) A-train Rail Trail is getting closer to full completion. The agency recently finished construction on phase three of the rail trail which goes from Swisher Road in Lake Dallas to the Highland Village/Lewisville Lake station. Rail trail users can now travel across Lewisville Lake on DCTA's A-train Rail Trail for more connectivity between the agency's A-train stations.
A-train Rail Trail Construction Phases
DCTA is working diligently to complete construction of its entire A-train Rail Trail. Below is a breakdown of all the rail trail construction phases and completion status:
Phase One (Complete)

: The original nine miles of the trail (Denton Branch Rail Trail), from the DDTC to Swisher Road, was completed in conjunction with the A-train construction in 2011.

Phase Two (Construction in Progress)

: DCTA completed the four miles from the Hebron Station to Mill and Jones in downtown Lewisville in 2016. A contract has been awarded for the trail from the Highland Village/Lake Lewisville Station to downtown Lewisville. Construction is expected to begin by the end of 2018.

Phase Three (Complete)

: This portion of the trail goes between Swisher Road and the Highland Village/Lake Lewisville station (which goes over the Lewisville Lake) was completed in summer 2018.
"We're in the home stretch of completing the full construction of our A-train Rail Trail, said Raymond Suarez, DCTA CEO. "Finishing this phase of the rail trail is a great benefit to the many communities we service, and we can't wait to have the entire trail completed so people can have the full amenity of a green, alternative transportation option that connects our existing transit facilities with key destinations within our member cities and surrounding areas."
What's Next for the A-train Rail Trail
Currently, DCTA is working to award a contractor to finish the final section of phase two of the A-train Rail Trail which goes from Highland Village/Lewisville Lake Station to downtown Lewisville. Construction is slated to begin December 2018.
DCTA expects to complete its entire 19-mile A-train Rail Trail project by 2019. The A-train Rail Trail will connect each of the agency's rail stations and provide pedestrians and bicyclists a safe opportunity to travel the entire trail or take a break and ride the A-train or Connect bus. The final construction cost is estimated at $14 million, which could change once the trail construction is complete.