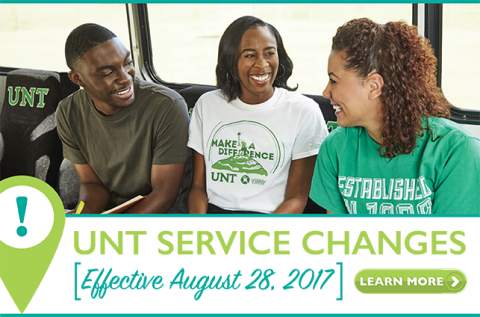 The Denton County Transportation Authority (DCTA) will implement comprehensive service changes effective Monday, August 28, 2017. The service changes will impact passengers who ride the A-train commuter rail, University of North Texas (UNT) Campus Shuttles, Highland Village Connect Shuttle and Denton Connect Routes 7 and 8. Many of the service changes will provide more transit options for riders.
"These comprehensive service changes are in line with DCTA's goal of providing safe and efficient mobility solutions to better meet the needs of our riders, community members and partners," said Jim Cline, DCTA President."
Below is a list of service changes that will be implemented Monday, August 28:
University of North Texas Campus Shuttles
DCTA will implement key changes on behalf of UNT by stationing new transit hub centers at Fouts Field and Union Circle. These changes will contribute to UNT's vision of a more safe and walkable campus. In addition, modifying these routes will help save money in fuel and other costs, and ensure the sustainability of overall transit operations for UNT. Full campus shuttle route information can be found at transportation.unt.edu/transit.
Denton Connect Routes 7 and 8
Both routes will have minor changes to the schedule, however, the routes along Highland Street will be relocated to Eagle.
Highland Village Connect Shuttle Flag Stops
DCTA will institute flag stops for certain areas along the Highland Village Connect Shuttle route. The new flag stops will allow riders to signal a driver to board the shuttle without being at an official stop. There will be no flag stopping permitted along the I-35E service road, FM 407 or Village Parkway. To use the flag stops, passengers should stand in a safe location on the side of the street where the shuttle is scheduled to pass and wave to the bus operator. The bus operator will pull over at the safest location closest to the passenger. Passengers can use the existing Connect Shuttle schedule to gauge the estimated vehicle arrival time at the desired location. The Highland Village Connect Shuttle schedule will remain the same after the new flag stops are instituted.
Promotional A-train Free Fare Zones
In conjunction with service changes, DCTA will roll out new "free fare" zones as a promotional effort to support riders and their travel behaviors. The rail line between the Downtown Denton Transit Center and the MedPark Station, as well as between the Hebron Station and the Trinity Mills Station will no longer require a paid fare. The area between the MedPark Station and the Hebron Station will be the new fare enforcement zone where passengers will need to have a local or regional pass to ride. This is a fare promotion and not an official fare change.
For more information about DCTA's August service changes, visit RideDCTA.net.