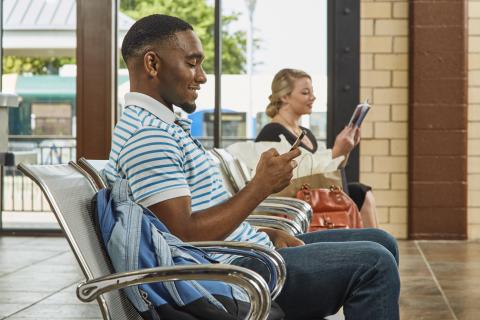 The Denton County Transportation Authority (DCTA) has expanded its transit offerings with its new Mobility as a Service (MaaS) contract model. In April 2019, DCTA's Board of Directors approved a new suite of on-call contracts that will allow the agency to allocate up to $2.4 million of its annual operating budget to offer a variety of mobility services via task orders. MaaS is a trending business model in the transit industry that utilizes on-demand, real-time platform-based services that can include any combination of various mobility options such as car and bike sharing, taxis, driverless vehicles, etc. while providing a seamless experience for the customer, from integrated travel planning to fare payment.
In January 2019, DCTA issued a request for proposals (RFP) to solicit proposals from firms to provide innovative options to implement flexible, efficient and effective mobility services. These services would enhance and supplement DCTA's existing transit offerings and provide service to areas where traditional transportation options are less effective.
Innovative "Toolbox" of Mobility Solutions and Transportation Technology
A total of 37 firms responded to DCTA's RFP and 31 were selected to become a part of the agency's MaaS contract model that specialize in various mobility solutions such as bike sharing, integrated fare payment and collection, autonomous vehicles, etc.
Firms selected by DCTA for "Mobility as a Service" contracts include: AJL International, Bird Rides Inc. Bubbl Investments, Dashboard Story (DUET), DemandTrans Solutions, DoubleMap, Downtowner Holdings, Drive.ai, First Transit, Ford Smart Mobility, Irving Holdings, Iteris, Kapsch TrafficCom USA, Lyft, Moovel North American, Moovit, Muve: Quebec, MV Transportation, Passport Labs, Quebec Inc (Transit), RideCo, Rideshark, River North Transit (subsidiary of Via), Roundtrip, Routematch Software, SeatsX, Spare Labs, Spare Labs with First Transit, Token Transit, Transdev North America and Transloc.
"With our new MaaS contract in place, DCTA can add more value to the North Texas region by offering personal mobility options that are specifically tailored to each community we serve," said Raymond Suarez, DCTA CEO. "This contract model puts us in a great position to supplement our existing transit services and prepare for future mobility technologies for potential implementation."
Unique Transportation Model One of the Country's First
DCTA's MaaS contract model is one of the first in the U.S. that is available to other public agencies (i.e., city, district, public authority, public agency, municipality and other political sub-divisions or public corporations of Texas) located in Texas, as well as other transportation organizations nationwide as allowed by Texas law. In addition, DCTA's contract provides the vendor community with the ability to work with multiple cities across the country with no additional cost of procurement.
With new firms and evolving technologies available for utilization by a public transportation authority, DCTA may issue a new solicitation in the future to select additional firms or contractor teams. Firms or contractor teams already under contract would not be required to submit a new proposal.
DCTA now has a wide range of firms to provide personal mobility options, explore opportunities to optimize transportation network efficiency, define a role for alternative and emerging mobility services in transit operations and prepare for future multimodal service to areas where traditional transportation options are less effective.