SERVICE NOT IN OPERATION - DISCONTINUED ON SEPTEMBER 7, 2021 & REPLACED BY GOZONE ON-DEMAND SERVICE.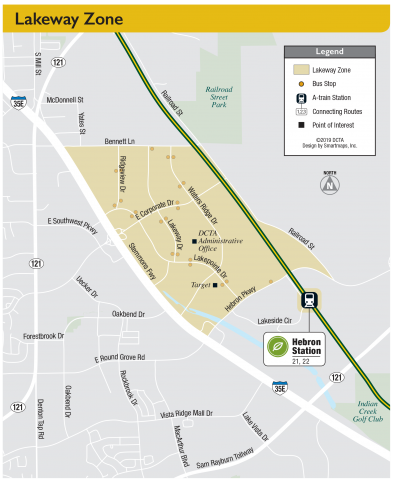 DCTA has an on-demand, microtransit service that provides travel options for those needing to access the Lakeway Business Park area in Lewisville and surrounding businesses in the designated zone. There is a stop at DCTA's Hebron station for connections between Connect Routes 21 and 22, the A-train and the Lewisville Lakeway Zone.
Microtransit service offers real-time flexible routing and scheduling of vehicles. Similar to Uber and Lyft, DCTA-branded vehicles will carry a handful of riders at a time. The driver will have an iPad showing the shortest route to get passengers to their individual destinations.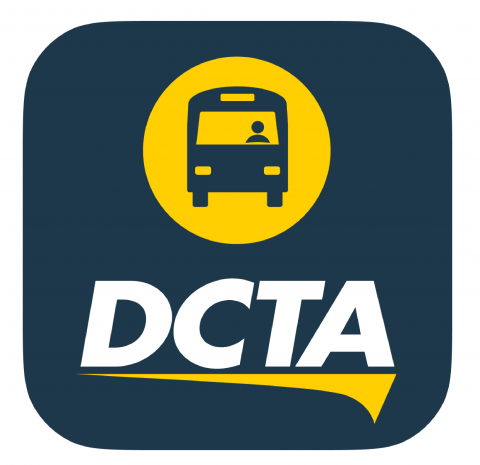 Passengers can book a trip in real-time via the DCTA On-Demand mobile app which can be downloaded from the Apple and Google Play store or by calling 940.243.0077. The DCTA On-Demand app logo is to the left.
Cost to Ride
A DCTA Local Day or AM/PM Passes gives riders access to the A-train, Connect Bus Service, Connect Shuttle, Campus Shuttles and Lewisville Lakeway On-Demand services. University of North Texas (UNT) faculty and staff can ride Lewisville Lakeway On-Demand service free with a valid ID.
Service Hours
Service hours are Monday through Friday from 6:00 a.m. to 9:40 p.m. and Saturdays from 8:30 a.m. to 7:40 p.m.
The service will not run on the following holidays: New Year's Day, Memorial Day, Independence Day, Labor Day, Thanksgiving and Christmas Day.
Service Area
Riders can book a trip to the Lakeway Business Park area and surrounding businesses in the designated zone. This service uses a mixture of current physical bus stops, as well as virtual stops within the app. The mobile app or DCTA customer service representative will direct riders to the most appropriate stop for pick up and drop off locations.
Passengers can also connect to other DCTA services such as the A-train and Lewisville Connect Routes 21 and 22 at the Hebron station.
How to Book a Trip
Booking a trip is easy. Follow these steps below:
Open the DCTA On-Demand app on your mobile device and link your account to DCTA.
Enter your destination in the "Where to?" box.
When selecting your pickup location and drop off location you can use the designated stops or you can enter in an address for your specific location.
Add in any additional information by tapping on the "Passenger" or "Wheelchair" icon and tap "Request Ride" when ready. If you want to schedule your trip in advance, you can select a later time and/or date by tapping "Schedule" in the lower right corner.
Receive real-time prediction of pick-up time via text and the app.
Once a rider has created a trip, they can track the vehicle on the trip view in the DCTA On-Demand mobile app. Passengers will be able to see where the vehicle is driving to, and an ETA for when the vehicle will arrive. In addition, helpful information about the vehicle will be available including color and license plate.
Account help and Mobile App Resources
For general questions and facts about the DCTA On-Demand mobile app, riders can visit https://help.sparelabs.com/spare-rider. If riders need assistance with their account, they can visit sparelabs.com/help or go to "Settings" in the mobile app and click Help.
DCTA's Lewisville Lakeway On-Demand Service is the next step in the agency's plan to explore newer, more cost-effective ways to provide service to its customers. We appreciate rider feedback and encourage you to send it via our online feedback form below or GORequest system to help us enhance our service!