DCTA's partnership with Lyft has expanded to allow certified Lewisville Access customers the ability to travel from the city of Lewisville to designated geofenced zones in Flower Mound for medical related trips. This program provides eligible riders with affordable and convenient mobility options between the designated zones.
Listed below are specific program eligibility requirements:
Must be an existing city of Lewisville DCTA Access customer
Must provide a valid email address and smartphone phone number
You can learn more and apply for Access Service here.
Passengers are assigned a Lyft promo code from DCTA in order to book a trip within the Lewisville Access to Flower Mound Lyft Zone. The promo code is only valid for Lyft Standard services, not premium services (i.e., Lyft Lux, Black, XL or Black XL). Non-Lyft trips can be provided by DCTA when an accessible vehicle is required.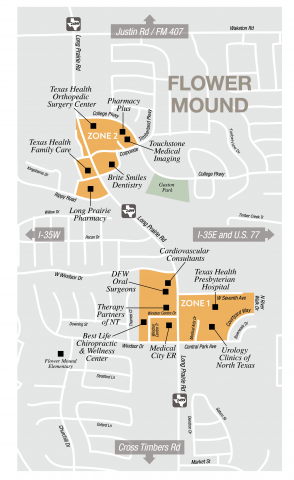 Service Hours
Program hours for the entire service area:  
Weekdays from 5:30 a.m. to 9:30 p.m.
Saturday from 7:30 a.m. to 7:30 p.m.
We will not operate on the following holidays:
New Year's Day
Memorial Day
Independence Day
Labor Day
Thanksgiving Day
Christmas Day
Designated Service Area
Subsidized rides are provided during normal DCTA Access hours, and travel must begin and end in different designated geofenced zones (no trips within the same zone) within the entire Lewisville Access to Flower Mound Lyft Zone including:
Zone One (Flower Mound)

North: Windsor Drive
East: North River Walk Drive
South: Central Park Drive
West: Windsor Centre Trail/Long Prairie Road

Zone 2 (Flower Mound)

North: College Parkway
East: College Parkway
South: Corporate/Corporate Circle/Rippy Road
West: Long Prairie Road

Zone 3 (Lewisville City Limits)

Anywhere within the city for utilization by Lewisville DCTA Access customers
Cost to Ride
Passengers pay the first $3 of their trip (same cost as a one-way DCTA Access trip) and the remaining balance will be paid by DCTA. (Average Lyft trip costs $11).

Lyft Mobile App Download and Account Instructions
The Lyft mobile app is available for iPhone and Android smartphones. PLEASE NOTE: The app requires a cellular connection and Lyft doesn't support tablets or Wi-Fi-only devices. Follow the instructions below to download the Lyft mobile app, install on your phone and create an account:
Go to your app store (the iOS App Store for iPhone and Google Play Store for Androids)
Search for "Lyft" and install the free Lyft mobile app
In order to sign up for a Lyft account you must have a phone number and email address (email address and phone number must be the same as what was provided to DCTA for enrollment in the program)
Type in your device's phone number
To verify your identity, Lyft will send you a verification code via text to your phone number
The text message should arrive immediately and if you don't see it after a bit, tap 'Resend code'
Type in your name, email address, and take a selfie (optional) so your driver knows who to pick up


How to Schedule a Trip with the Lyft Mobile App
Below are specific instructions for riders to book a trip through the Lyft program for trips that start and/or end in the designated zones during service hours:
Customers should open the Lyft app and select their Lyft profile in the top left corner of the home screen. From there, they select "Promos" in the drop-down menu.
Users can select "view coverage area" in the promotional section to see the designated Lewisville Access to Flower Mound Lyft Zone.
To plan a Lyft trip, choose your pickup location and destination. Lyft will automatically locate a customer's location from their smartphone. If a customer is beginning and ending a trip within the Lyft Zone, a $3 fare will be charged to the payment method entered into the Lyft app. If a trip is eligible for the remaining subsidy, the total estimated fare will be discounted and a message "Promo applied" will appear next to the cost.
Once a customer has determined that their trip is eligible for the DCTA-sponsored discount, they can choose "Request Lyft" in the app.
Lyft will contact nearby drivers, and provide customers information on the expected arrival time, driver identification, and vehicle information.
Lyft will text the customer when the driver is nearby and ready for pickup. After the customer's ride is completed, the Lyft app will show the final $3 fare with the remaining subsidy discount applied and provide an opportunity to rate and tip the driver.
When a Lyft trip is completed, the discount will automatically apply to the user's account whenever a trip is taken within the program parameters.
Passengers who are unbanked and/or do not have access to a smartphone can contact DCTA Customer Service at 940.243.0077 to book their trip. They will pay the $3 fare at the time of booking that will be processed by DCTA. This amount is non-refundable if the customer cancels or misses their trip for any reason. Cash payments can be made at the Downtown Denton Transit Center (DDTC).

Rider Feedback
DCTA welcomes rider feedback via GORequest to optimize the program over time. The agency hopes to expand this service format to other areas within the community.