Riders traveling within Highland Village and north Lewisville can utilize DCTA's Highland Village Lyft discount program to get to their desired destination with the tap of a button. DCTA has a partnership with Lyft in which the agency provides a sponsored discount for riders up to $13 for each trip taken within the designated Highland Village Lyft Zone. The discount applies to Economy Lyft trips ONLY. No additional discounts offered on any DCTA bus or train services.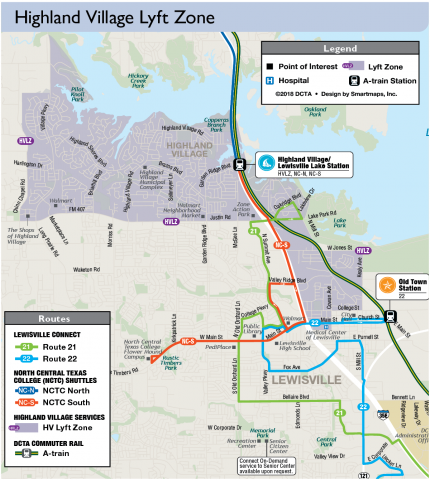 How to Access the Discount
Below are specific instructions for riders to access the DCTA-sponsored $13 maximum discount through the Lyft program for trips that meets all service parameters during service hours:
Customers should open the Lyft app and select their Lyft profile in the top left corner of the home screen. From there, they select "Promos" in the drop-down menu.
Enter the promotional code "RIDEDCTA2" in the top bar. You will only have to use this code once to enroll in the program.
Users can select "view coverage area" in the promotional section to see the designated Highland Village Lyft Zone.
To plan a Lyft trip, choose your pickup location and destination. Lyft will automatically locate a customer's location from their smartphone. If a customer is beginning and ending a trip within the Lyft Zone, an up to $13 discount will be applied to their total fare. If a trip is eligible for the discount, the total estimated fare will be discounted up to $13. If your estimated fare is $13 or below, the fare estimate will be shown as FREE.
Once a customer has determined that their trip is eligible for the DCTA-sponsored discount, they can choose "Request Lyft" in the app.
Lyft will contact nearby drivers, and provide customers information on the expected arrival time, driver identification, and vehicle information.
Lyft will text the customer when the driver is nearby and ready for pickup. After the customer's ride is completed, the Lyft app will show the final fare with the applied up to $13 discount and provide an opportunity to rate and tip the driver. Tips are charged separately to a customer's Lyft account and will not be covered by the discount program.
When a Lyft trip is completed, a discount will automatically apply to the user's account whenever a trip is taken within the zone.
The DCTA-sponsored $13 maximum discount will be automatically applied to an eligible trip before it's requested. In addition, the discount will be automatically applied every time a user takes an eligible trip within the program parameters (Service Hours and Highland Village Lyft Zone).
Rider Feedback
DCTA welcomes rider feedback via GORequest to optimize the program over time. The agency hopes to expand this service format to other areas within the community.