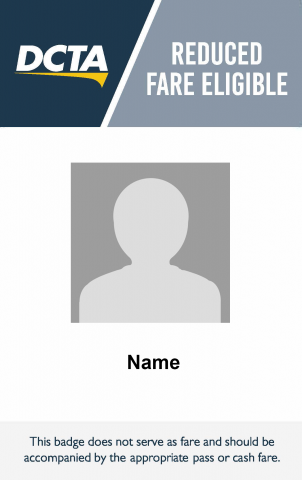 DCTA is pleased to offer reduced fares to enhance travel opportunities and quality of life to all segments of the Denton County population.
To purchase Reduced Fare passes for bus, train or shared ride travel, or to obtain Reduced Fare rates within the GoZone app, riders must have or acquire a Reduced Fare Eligible badge from DCTA.
Riders may qualify for a Reduced Fare Eligible badge and passes if they belong to any of the following groups:
Senior Citizens (Age 65 or over)
Disabled persons (ADA or non-ADA)
Medicare cardholders
Students Age 6 to 18 (with Student ID)
Children 5 and under ride for free
For additional information about DCTA's Reduced Fare Eligible badging process, please contact a representative at 940.243.0077.
Please note, the Reduced Fare Eligible badge identifies you as eligible for a reduced fare. It is not a valid pass for transit by itself, it must be accompanied by a pass or other type of paid fare.
To apply for a Reduced Rare Eligible badge or a Student or Child ID badge, please fill out and submit the DCTA Reduced Fare application, which can be found below.
Reduced Fare Application
Reduced or discount fares are also available for members of the Employee Pass Program, the University Pass Program, the Group Discount Program or the Non-Profit Discount Program.