Page Image

CONTACT US
We're here to help, and we value your feedback.
For any ADA questions, comments or complaints (not about the website), please contact:
Customer Communications Specialist
Phone – 940.243.0077
Email – info [at] dcta.net
Online – DCTA Customer Service Online
In Person (temporarily not available) / Via Mail – Address: 604 East Hickory Street, Denton, TX 76205
Contact Us Online

Have a question, suggestion,
complaint or compliment?
Lose something?

Fill out our online customer comment form for help.

GET HELP ONLINE
CALL US

To speak with someone
immediately, please call:
If you need to request reasonable modifications or accommodations, please contact DCTA Customer Service at 940.243.0077 or send an email to info [at] dcta.net.

Customer Service
Effective Monday, June 22, 2020, the DDTC is temporarily closed to the general public in response to the novel coronavirus (COVID-19) health emergency. Customer Service will remain available by phone to assist passengers with questions during the below hours of operation. For more information, read our article here.
Customer Service
Downtown Denton Transit Center
604 East Hickory St.
Denton, TX 76205
Hours of Operation -
Monday - Friday: 5 a.m. - 7 p.m.
Saturday: 8 a.m. - 4 p.m.
Sunday: Closed
Closed on the Following Holidays:
New Year's Day Labor Day
Memorial Day Thanksgiving
Independence Day Christmas Day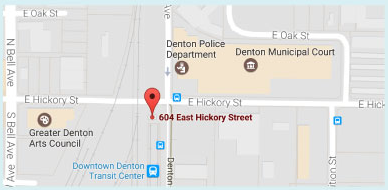 DCTA Administrative Offices
Physical Address:
1955 Lakeway Drive, Suite 260
Lewisville, TX 75057

Mailing Address:
P.O. Box 96
Lewisville, TX 75067
For Business inquiries contact:
972.221.4600
Website Concerns:
If you have any questions or feedback about the website, please contact Guadalupe Acosta at gacosta [at] dcta.net.
Social Media: