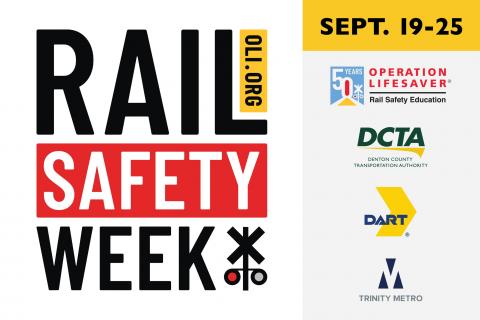 Every year, 2,100 North Americans are killed or seriously injured when they engage in unsafe behavior around tracks and trains. Texas Operation Lifesaver is joining Denton County Transportation Authority (DCTA), Trinity Metro and Dallas Area Rapid Transit (DART) from September 19-25 to observe Rail Safety Week and urge residents to help #STOPTrackTragedies.
In 2021 Texas ranked #1 in the United States in total crossing collisions with 247 crossing incidents, up from 191 in 2020. There were 17 crossing related deaths in Texas in 2021, up from 11 in 2020; crossing-related injuries were 58 in 2021 in our state, down from 69 in 2020
"Rail Safety Week concentrates the public awareness and education campaigns that occur all year long across the country into one jam-packed week. Each day this week, Texas Operation Lifesaver will share rail safety messages in support of our core mission – to save lives," said Jessica Devorsky, Executive Director of Texas Operation Lifesaver. "Everyone can help by taking – and sharing – the Operation Lifesaver Rail Safety Pledge. Together, we can #STOPTrackTragedies."
Trinity Metro will host a series of special events at select TEXRail stations from 3 p.m. to 4 p.m. Wednesday through Friday, Sept. 21-23. Representatives will be on hand to offer giveaways, rail safety activity booklets and ice cream treats while supplies last. Visit North Richland Hills/Smithfield Station on Wednesday, North Side Station on Thursday and Grapevine/Main Street Station on Friday.
Visit DCTA, Trinity Metro and DART online for more information on track and train safety, along with fun activities and programs to educate residents to help #STOPTrackTragedies.