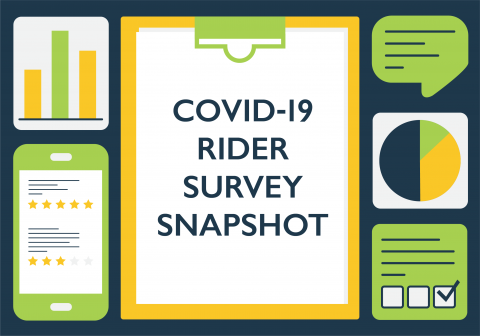 Last October 2020, we asked our passengers to rate and provide feedback on our COVID-19 safety response to help us continue to keep riders and employees safe. The survey results provided us with insight on passengers' view of public transportation during COVID-19 and will help us make the best decisions to continue to keep our system, vehicles and facilities safe for passengers and employees.
Our COVID-19 rider feedback survey was available for passengers from Oct. 5-25, 2020. We received a total of 211 passengers responded which represents 10 percent of the average daily ridership in September 2020. The online survey was available in English, Spanish and the Hakha Dialect of Chin.
We've now had time to sift through the data and are ready to present our findings! Learn what passengers said about our COVID-19 response below
Why Do People Currently #RideDCTA?
COVID-19 threw everyone's daily commute habits for a loop, so some of our passengers have changed how often they ride and why they ride. The infographic below highlights why passengers #RideDCTA and they were able to choose multiple options.
What Modes of Transit are People Using?
With early school closures and updated DCTA service schedules, riders have to be flexible with the changes to get where they need to go. We're so thankful for our passenger's patience as we navigate the pandemic together. Note: passengers were able to choose multiple answers for this question.
We were a bit surprised to see some of your answers but were excited that so many passengers utilized our newly completed A-train Rail Trail during COVID-19! This may just be the highest trail usage we've seen from our recent surveys and is in line with the recent trend of increased trail usage across the country.