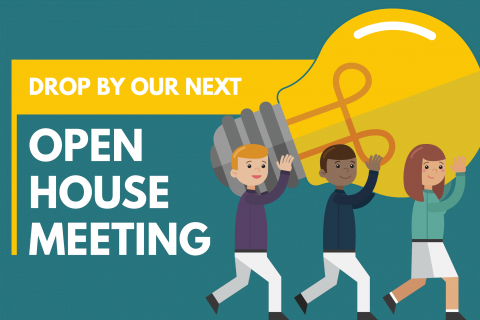 The Denton County Transportation Authority (DCTA) invites the public to attend its May open house meetings to provide feedback on proposed agency projects. During the meetings, DCTA will present agency proposals, including the expansion of Denton Enterprise Airport on-demand service, changes to the University Pass Program, A-train service updates and minor bus schedule adjustments. The come-and-go meetings will give people an opportunity to speak with individual DCTA staff members about the presented topics.
Meeting Presentation Topics for Discussion
DCTA has numerous projects happening in the next few months and needs passenger feedback to enhance service and projects for the many communities the agency serves. Below are highlights of the topics that will be discussed during the meetings:
Denton Enterprise Airport On-Demand Expansion

– In mid-May, DCTA is planning to expand its service area by adding a new zone to cover portions of the residential area south of I-35E and west of Fort Worth Drive.

Changes to University Pass Program

– Following DCTA's new local fare structure that launched in January, the agency is proposing to align the current prices with its existing reduced fare discount that will be available to students, faculty and staff with proper verification documents and school ID.

A-train Schedule Updates

– DCTA is proposing to add four additional northbound and four additional southbound trains to the midday rail schedule. Also, schedules will be adjusted for new Positive Train Control (PTC) requirements DCTA is implementing on its A-train. Bus Schedule Updates – Minor schedule updates will be made to match the updated A-train schedule.
Various Open House Meetings to Attend
Meetings will be held in Denton, Lewisville and Highland Village:
Denton

–

two meetings will be held on:

Saturday, May 11, from 10 a.m. to 2 p.m. at the Denton Welcome Center (111 W Hickory St.)

Thursday, May 16, from 3 p.m. to 7 p.m. at the Downtown Denton Transit Center (DDTC) in the lobby area (604 East Hickory St.)

Lewisville

–

meeting will be held on Saturday, May 11, from 10 a.m. to 1 p.m. at the Lewisville Community Expo at the Next Steps Center (1305 TX-121 BUS)
Highland Village

–

meeting will be held on Sunday, May 19, from 10 a.m. to 2 p.m. at the Highland Village Community Market (2230 Justin Rd)
Online Presentation and Feedback Form Available
For those who are unable to attend the May open house meetings, DCTA has a digital presentation that provides details on all the topics that will be covered. The presentation is available at RideDCTA.net from Wednesday, May 1, until Friday, May 31. An online feedback form is also available and individual comments are highly encouraged.
Everyone is welcome to attend the open house meetings. Persons with hearing or sight interpretive service needs are asked to contact DCTA at least five business days in advance of the meeting at 972.221.4600 or via email at dctainfo [at] dcta.net so that DCTA can accommodate requests.