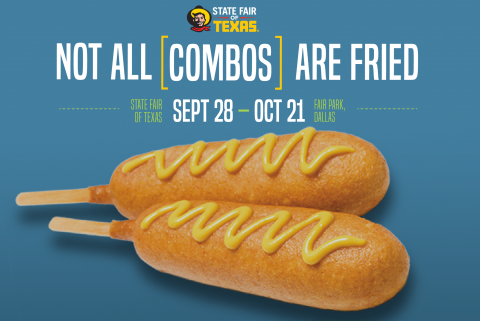 Get ready to save big for the 2018 State Fair of Texas! This year, the Denton County Transportation Authority (DCTA) is offering fair goers a free DCTA local pass when they purchase a State Fair of Texas ticket through DCTA for $13.50 (a $21 value). Riders can purchase DCTA's fair ticket combo online at DCTAdeal.net for mail delivery, or at the Downtown Denton Transit Center (DDTC) for immediate pickup. DCTA's fair ticket combo is not available for purchase on the GoPass® mobile app.
5 THINGS TO KNOW ABOUT DCTA's FAIR TICKET COMBO
Below are helpful tips fair goers should know about the agency's State Fair of Texas ticket combo:
DCTA's State Fair of Texas ticket combo will be available for purchase starting Monday, September 24 both online and at the DDTC. Tickets will be sold through Saturday, October 13 at DCTAdeal.net and Saturday, October 20 at the DDTC.

A State Fair of Texas ticket must be purchased for $13.50 to receive a free DCTA local pass during the promotional period.

The free DCTA local pass is valid for travel on DCTA Monday through Saturday only (no Sunday service). Dallas Area Rapid Transit (DART) local passes are not included in this promotion and should be purchased separately.

The promotion is valid for a DCTA local pass only and is not valid with any other agency fares, passes, promotions or discounts.

No refunds or exchanges will be given.
GET TRAVEL TIPS WITH DCTA'S ONLINE TOOLKIT
During the fair, DCTA will operate regular bus and A-train service. Fair goers can board the A-train at any of DCTA's five A-train stations (DDTC, MedPark, Highland Village/Lewisville Lake, Old Town and Hebron), transfer to the DART Green Line at Trinity Mills, and have front door service to Fair Park at either the MLK Station or Fair Park Station. Riders should take note of A-train service modifications on Friday evenings and Saturday mornings due to Positive Train Control (PTC) testing. Visit RideDCTA.net to see the A-train service modifications to carefully plan your travel in advance.
As a reminder, the A-train does not meet every DART Green Line train. DCTA encourages fair goers to plan their trip using the agency's online planning toolkit for detailed travel information, and use the agency's Transit Tracker system for real-time arrival information available via mobile app, text, online and phone.
Parking is free at all DCTA A-train stations. There is a 24-hour time limit on parking at all agency A-train station parking lots. DCTA does recommend that fair goers park at the MedPark, Old Town and Hebron stations as they have more parking spaces.
For more information on the DCTA State Fair of Texas ticket combo and online planning toolkit, visit DCTAdeal.net.