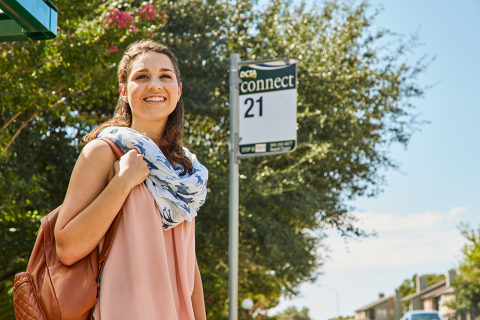 Changes are coming soon for Denton County Transportation Authority (DCTA) riders. Effective Monday, August 27, DCTA will implement service changes that will provide enhanced mobility options and improved connectivity within DCTA's service area; as well as two fare promotions focused on increasing accessibility and ridership.
Below is a list of key service changes that will go into effect Monday, August 27:
Bus Service Enhancements to Improve Connectivity and Accessibility
We plan to implement significant changes to Denton Connect Route 8 to allow for better connectivity with our A-train and serve the southern portion of the University of North Texas (UNT) campus as well as areas on Eagle Drive. Passengers will see minor schedule tweaks to Denton Connect Routes 1, 6 and 7 that will improve efficiency and connectivity between other DCTA services.
The North Texan and Eagle Point UNT Campus Shuttle routes will be expanded. The North Texan will be rerouted to provide more frequent service to Victory Hall and serve the new parking spaces at Apogee Stadium. The Eagle Point route will serve Maple, Kerr, Honors and Victory Halls, providing additional capacity for the campus circulators as well as providing a one-seat ride for students who reside at Victory Hall to the General Academic Building (GAB) and UNT Union.
In addition, we will reroute our North Texas Xpress Route 64 by removing sections of the route that served University Drive and adding service to UNT's Fouts Field. This service update will provide a one-seat ride for students, faculty and staff and make for a seamless connection to the North Texas Xpress service.
More Efficient Services for Highland Village
People traveling within Highland Village and North Lewisville will have more efficient mobility services to get to their desired destinations. We will discontinue our Highland Village Community On-Demand service and expand our Lyft discount program to serve this area. Riders who used our Highland Village Community On-Demand service will now be able to utilize our Lyft discount program in which we will provide up to a $10 sponsored-discount for each trip.
Below are key program details:
Operating Monday through Friday from 5:30 a.m. to 9 p.m. (excluding major holidays)
The existing Highland Village Lyft Zone service area will remain the same for service operation
Another service change includes the Highland Village Connect Shuttle going to a 30-minute frequency for more efficient operations.
New Fare Promotions to Help Increase Ridership
In conjunction with service changes, we will roll out two new promotions to help increase ridership with reduced and free fare options:
University A-train Promotion – We are providing UNT, Texas Woman's University (TWU) and North Central Texas College (NCTC) students, faculty and staff with free A-train rides between the Trinity Mills Station in Carrollton and the Downtown Denton Transit Center (DDTC). This new promotion will be valid August 27, 2018 through January 14, 2019.
Local Fare Promotion – In an effort to offset regional fare increases, we are launching a local fare promotion effective August 27, 2018 through January 14, 2019. Our Local Fare Promotion will consist of reduced ticket prices across all DCTA local fares – giving riders the option to save on cost by purchasing two local passes vs one regional pass. Regional fares will be increased across all three public transit agencies – Dallas Area Rapid Transit (DART), DCTA and Trinity Metro. A cheat sheet guide will be made available for passengers to learn the best methods for saving on their overall travel cost.
Service change maps and schedules can be found here.