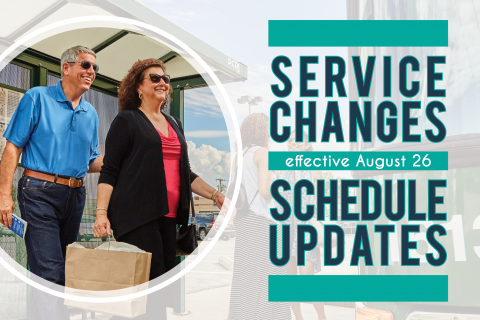 Changes are coming soon for Denton County Transportation Authority (DCTA) riders. Effective Monday, August 26, DCTA will add midday A-train service and implement minor updates to its bus system that will positively impact riders. Many of DCTA's upcoming service changes will provide more transit options for passengers and better connectivity within the agency's system and to the Dallas Area Rapid Transit (DART).
"With this round of service changes, we aimed to improve mobility options for our riders with increased frequency and midday A-train service, better connectivity within our system, improved meet times with DART and UNT Campus Shuttle changes so bus schedules better meet class schedules," said Raymond Suarez, DCTA CEO. "We're always looking for ways to enhance the passenger experience and our upcoming service changes align with our mission of improving air quality, economic development, livability and mobility in the many communities we serve."
Below is a list of key service and schedule changes that will go into effect Monday, August 26:
Midday A-train Service Added and Increased Frequency All Day
DCTA will add midday A-train service and updates to accommodate Positive Train Control (PTC) implementation and provide better connectivity to the DART Green Line. Four northbound and four southbound trains are being added to the schedule which will reduce service gaps and provide more ride options for passengers in the middle of the day.
Riders will also notice a difference in A-train frequency and run times due to the implementation of federally-mandated PTC technology. Transit agencies nationwide that operate commuter rail systems have adjusted run times as an impact of implementing PTC technology. DCTA has modified its A-train schedule to reflect an increase of 12 minutes in run times (total run time of 44 minutes) due to the implementation of this safety-critical technology on-board the A-train. The agency's second phase of PTC implementation is underway as the agency aims to improve travel times for a potential reduction in total run time.
With the new schedule there will be improved A-train frequency all day (30-minute frequency), and with DCTA operating all train schedules in Revenue Service Demonstration the agency will no longer have service modifications and passengers can ride regular A-train service. There will be a short break between 1 p.m. and 2 p.m. while trains are prepped and staffed for the remainder of A-train service schedule.
Minor Updates for Connect Bus for Better A-train Connectivity
In addition to added midday A-train service, DCTA will make the following minor updates to other fixed route and peak-period bus service:
Denton Connect Routes –

schedule updates to match the new A-train schedule and route changes to improve on-time performance

Lewisville Connect Routes –

schedule updates to match the new A-train schedule

Highland Village Connect Shuttle –

schedule updates to match the new A-train schedule
New Route Numbering System and Updates for UNT Campus Shuttle Service
DCTA will launch a new route numbering system with its August 2019 round of service changes and will start with UNT Campus Shuttle service. Each sequence will have a 3-digit code to identify the proper group, route and schedule. The short letter code will still be visible to help riders identify the route desired (i.e. CE = Colorado Express). To view the full list of UNT Campus Shuttles new route numbering system, visit RideDCTA.net.
In addition to the new route numbering, updated schedules and route changes are coming for UNT Campus Shuttle riders. Highlighted below are specific changes to each shuttle service:
Bernard Street

(BST) – schedule change to better meet classes

Centre Place

(CP) – schedule change to better meet classes

Colorado Express (CE)

– adding service along Bernard Street for additional capacity

Discovery Park (DP) –

schedule and route change due to road construction along Bonnie Brae

Eagle Point (EP) –

schedule change to better meet classes

Mean Green (MG) –

one bus to run counterclockwise and two buses to run clockwise which will make it the fastest way to get to the north end of the UNT campus from the University Union

Mean Green Night Rider (MG) –

schedule and route change due to road construction

Mean Green Night Rider Plus (MG) –

schedule and route change due to road construction

North Texan (NT) –

adding service along Precision Drive and removing service to Victory Hall